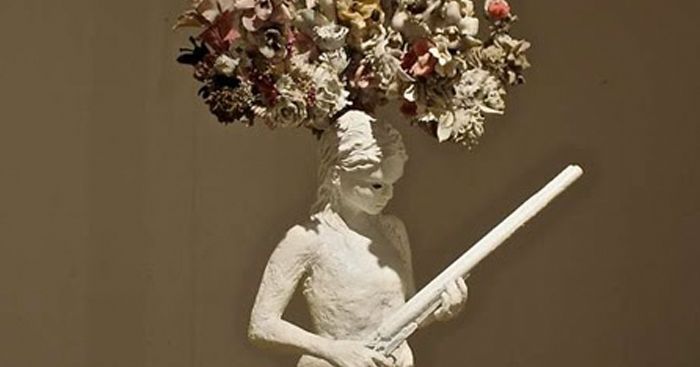 Strange Girls Never Die
Group Exhibition exploring and exaltating of "strange girls" and the myriad of ways they manifest, perform, and live this identity.
Event Website
Showing

Nov 7th - Dec 4th, 2015

Reception

Sat Nov 7th, 2015 7PM - 10PM CST
CO Exhibitions
1101 Stinson Blvd
Suite 2
Minneapolis
( map )
A new collection of work from 25 artists from across the country! The concept of Strange Girls originated at The Coney Island Sideshow School, when the show's curator (and recently-hired BRLSQ studio helper), Rhys Jones, was studying banner painting. The term Strange Girls originated in use as an umbrella term for tattooed women, bearded ladies, lobster girls, and the like.

The show is an exploration and exaltation of strange girls and the myriad of ways they manifest, perform, and live this identity. The idea has grown in strength and numbers supporting different ideas of gender identity and expression. The exhibit features an eclectic mix of paintings, illustrations, photography, prints, and sculpture.
Opening Reception features live music from
Bruise Violet
Revered Mary Allen & Her Percolators
Yoni Yum
Crow Call

FEATURED ARTISTS:
Mary Allen
Heather Benjamin
AnnaBOMBart
Marissa Bonnie
Ellie Bryan
Monica Canilao
Sabrina Elliott
Bryn Gleason
KaraFaye Gregory
Luke Hillestad
Rhys Jones
Ryan Ketchum
Katrina Knudson
Jess LaRotonda
TUrkey Maddux
C.L. Martin
NEVA SAFE!!
Edie Overturf
Carla Alexandra Rodriguez
Marie Roberts
Erin Sandmark
Ann Seymour
Nicole Simpkins
Aminah Slor
Joy Spika
Martzia Thometz
Amber White
Dana Wood Zinsser

RSVP on Facebook
Read our interview with Rhys Jones, curator of "Strange Girls Never Die"
Listen to an interview on KFAI's Art Matters

#mplsart
If you are making art or looking at art in the Twin Cities, use the hashtag to show it off.