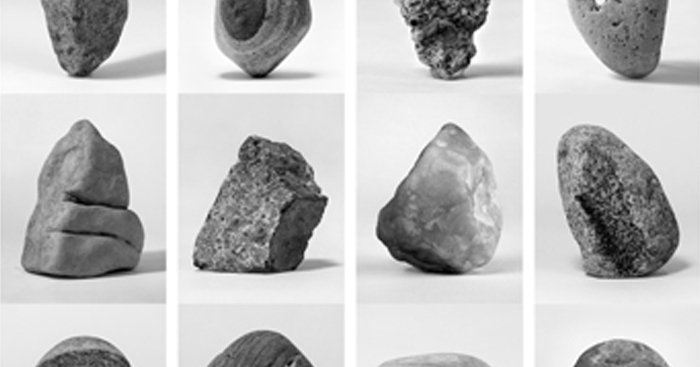 Stone Voices
An exhibition of large scale installation and photography by Bernice Ficek-Swenson
Event Website
Reception

Sat Mar 11th, 2017 6PM - 8PM CST

Showing

Mar 13th - Apr 14th, 2017

Lecture Presentation

Tue Apr 11th, 2017 6:30PM CST
Traffic Zone Center for Visual Art
250 3rd Ave N
Minneapolis
( map )
Traffic Zone Gallery presents Stones Voices, exhibition of artworks by Bernice Ficek-Swenson. The exhibition includes a large-scale installation of black & white photographs of 12 stones accompanied with narratives written by 6 contributors. Incorporated are stones from evocative locations as a D-Day Beach, Ganges River, Pompeii and a beloved Lake Superior cove. Each "story" tells a history or description of the landscape/geology and a personal reaction to each site. The exhibition also includes 2 suites of photogravure prints and an artist book that thematically reference the installation. The Here/Now There/Then photogravure suite was created during an artist residency at Izote Editions, in Mexico, with a unique edition of color photogravures hand-printed by the artist for this exhibition.
Artist Statement
Stones have been an important part of my imagery, an interest that began as a 20-year-old map drafter working with geologists. Prehistoric megalithic locations have also been sources of inspiration, with visits to sites leaving impressions of monumental scale and a vast sense of time. Stone Voices was created after a "pilgrimage" to Carnac, France where 3000 Neolithic stones older than the pyramids are aligned. In my Stone Voices installation I've expanded the metaphor of "stone" beyond a reference of landscape/time, to implying environments touched by human presence. Photographed stones reflect places of historic relevance: a D-Day Beach, a cremation site on the Ganges River and the headwaters of the Mississippi River. Bernice Ficek-Swenson
​
Lecture Presentation
Tuesday, April 11, 2017, 6:30 - 8:00 pm
​Contemporary Copper-plate Photogravure
Free and open to the public
#mplsart
If you are making art or looking at art in the Twin Cities, use the hashtag to show it off.