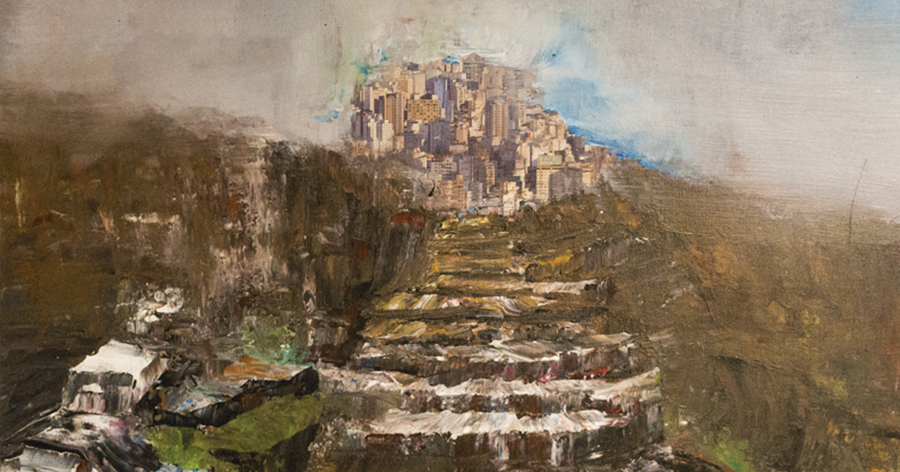 SooVAC Spring Exhibitions
Syed Hosain, Amanda Hamilton, and Mary GibneyEvent Website

Showing

Apr 28th - Jun 2nd, 2018

Opening Reception

Sat Apr 28th, 2018 6PM - 9PM CST

Closing + Artist Talk

Fri Jun 1st, 2018 6PM - 9PM CST
Soo Visual Arts Center
2909 Bryant Ave S
Suite 101
Minneapolis
( map )
IC: Syed Hosain, "Capitol in Wreckage"
SooVAC opens the spring season with three exhibitions by artists whose work presents three very different perspectives from Syed Hosain's views from war-torn areas to Amanda Hamilton's exploration of what darkness means, to a new artist-in-situ exhibition by Mary Gibney.
Across from Paradise: New work by Syed Hosain
Syed Hosain's work suggests a view from a privileged perspective on to the disasters and challenges of living in conflict stricken places, illustrating the close relationship between propaganda and slaughter.
Dark Adaptation: Paintings and Site-Specific Work by Amanda Hamilton
In Dark Adaptation, Amanda Hamilton's paintings are about darkness and her interests surrounding perception and contemplation. The optical process of our eyes adjusting to lower light levels is known as "dark adaptation".
Peculiarities: An evolving spectacle by Mary Gibney
Peculiarities is a new experiment at Soo Visual Arts Center, a five-week residency in which Mary Gibney will create an evolving exhibition onsite.
--
Closing Artist Talk
Join in June 1 from 6-9pm for a closing celebration for all three exhibitions, including a brief talk and Q and A with each artist at 7pm.
More info + Gallery Hours
Soo Visual Art Center