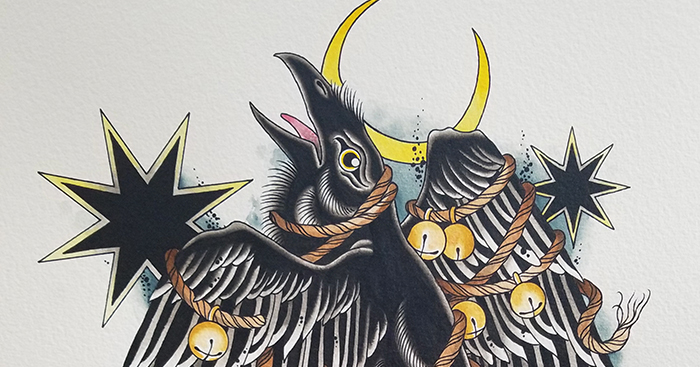 Spit Shade
Official Opening Party of the Minneapolis Tattoo Arts Convention
Event Website
Showing

Jan 4th - Jan 20th, 2018

Opening Party

Thu Jan 4th, 2018 7PM - 11PM CST
Gamut Gallery
717 S 10th St
Minneapolis
( map )
IC: Nate Vincent Szklarski
An exhibit of original artwork from local and national tattoo artists curated by Minneapolis tattooers Lindsee Bee and Nate Vincent Szklarski. The artworks exhibited will retain the spirit of tattoo art, but the organizers have asked tattoo artists to explore other media and inspirations and are excited to see what happens.
Featured Artists: Adam Underwood, Alex Gregory, Alex Morse, Andrew Travis, Anthony Elliott II, Bleach, Bradley Trotter, Cody Gains, Charlie Forbes, Chris Chapman, Chris Dobransky, Collin Rigsby, Daniel Jimenez, Dave Tieman, Emmanuel Mendoza, Garrett Rautio, Isaac Brethauer, J. Adams, Jacob Klapperich, Jamie Thomas, Jason Walstrom, Jeremiah Kanne, Jeremy Calverley, Jesse Heike, Joseph Christensen, Joshua Strand, Julie Freeland, Kyle Mack, Lindsee Bee, Marissa Wunders, Poohki, Matt Zins, Mike Grant, Nate Vincent Szklarski, Richard Hudson, Ryan "Opie" Mueller, Sampson Hurley, Simeon Nelson, Spencer Hodgson, Taylor Dees, Troy Timple, Wayne Evans.
EXHIBIT OPENING // Thursday, January 4th 7-11pm, $5
Official opening for the Minneapolis Tattoo Arts Convention
Featuring music by DJ No Pants
EXHIBIT FINALE // Saturday, January 20th, 5-8pm (FREE)
Featuring a funk DJ set by Bobby Kahn
#mplsart
If you are making art or looking at art in the Twin Cities, use the hashtag to show it off.