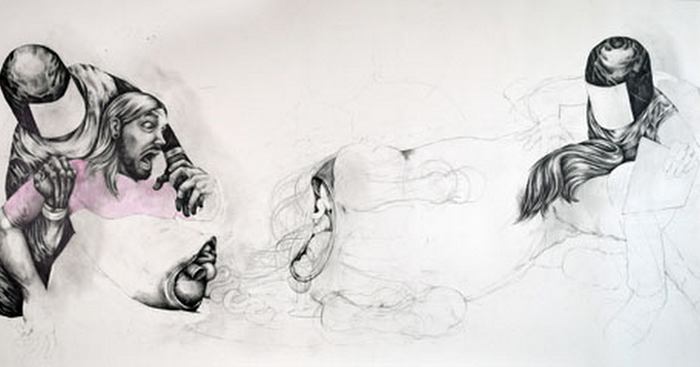 Some Assembly Required
Group exhibition of six artists about to complete the Master of Fine Arts degree in the Department of Art at the University of Minnesota.Event Website
Showing

Apr 4th - Apr 22nd, 2017

Reception

Sat Apr 8th, 2017 6:30PM - 10PM CST
Katherine E. Nash Gallery, U of M
405 21st Ave S
Minneapolis
( map )
The Katherine E. Nash Gallery at the University of Minnesota presents Some Assembly Required, a group exhibition of six artists about to complete the Master of Fine Arts degree in the Department of Art at the University of Minnesota.
The exhibition includes works by Nooshin Hakim, Michael Johnson, Joe Krasean, Alex M. Petersen, Bianca Pettis, and Xavier Tavera.
In her mixed media installation that includes an actual airplane wing, Hakim locates the gap between reality and the "enchantment" of ideology. Using open-air Cyanotype exposures on raw canvas, Johnson materializes an essence of the Earth's constantly shifting atmospheric conditions across time, space, and site. Krasean's installation of ceramic vessels leavens the density of materiality with an atmosphere of humor and irony. Drawing the viewer in with finely tuned representation, Petersen opens the door to an ambiguous and surprising landscape of identity and sexuality. In a fearless synthesis of cartoon and fine art sensibilities, Pettis invites the viewer to see the world her way through large-scale, colorful paintings. Tavera's still and moving images cross the boundaries of cultures, geographies, and preconceptions to posit a hidden commonalty that binds us together.

Image: Alex M. Petersen, The Centaur (in process), 2016, graphite and gouache on paper, 10 x 4.5 ft.