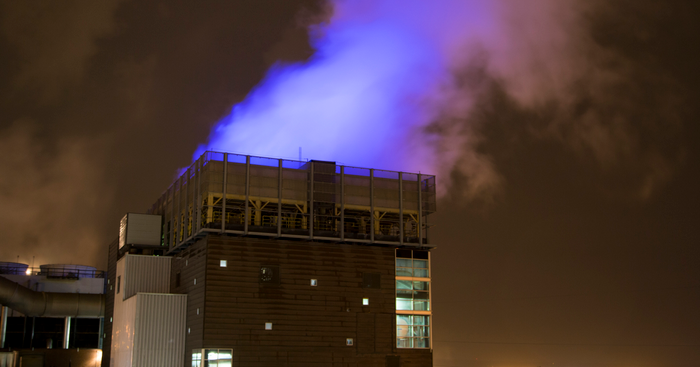 Solar System by Aaron Dysart
The steam plume at District Energy St Paul will be illuminated with projected light, color and animation in this 2nd of 3 displays from Project Plume to build a deeper relationship with where our energy comes from.Event Website

Showing

Dec 22nd - Jan 12th, 2016
District Energy St. Paul
76 Kellogg Blvd W
St Paul
( map )
Solar System by Aaron Dysart, December 22, 2015 – January 12, 2016
Solar System will use an ever-changing light show to highlight the source of the earth's energy and show that we are all connected through our need of energy. Live data taken from NASA's Solar Dynamic Observatory will dictate the color and brightness of the plume lights and create a captivating spectacle. As the Sun is the center of our solar system providing power for our planet, District Energy's plant stands in the center of the city providing heating, cooling, and power for most of Downtown St. Paul.
About the Plume Project
The Plume Project, a series of three temporary art works that will transform the signature District Energy St. Paul steam plume into a canvas for projected light displays. Each art work was designed by an individual artist as a member of the Plume Project team, using projection lighting, coloring, and animation to create an art and science project unlike any other in the world.
The projects will run from 5:00-10:00 PM on weeknights and 5:00-11:00 PM on the weekends. The three series represent almost eight weeks of arts programming, with each night promising something different for audiences. More information about the projects can be found at plumeproject.com or districtenergyplume.com.
Aaron Dysart is a sculptor whose environmental interventions push ideas of propriety, gift giving, and reciprocity, while showcasing his love of material's ability to carry content. He is current fellow in St. Paul Public Art's – City Art Collabortory, which brings scientists, engineers and artists together to explore the complex systems through which cities are built, experienced and sustained and also participated in their Hunting and Gathering Walks program in which artists lead walks with scientists along the Mississippi river. In 2010 he was awarded a Public Project grant through Forecast Public Art to create and row a boat made out of soap on the Mississippi river and has also received awards from Franconia Sculpture Park ('07, '12), and The Minnesota State Arts Board ('13, '15) and has shown nationally, including the Walker Art Center, Minneapolis Institute of Art and Josephine Sculpture park. Dysart currently lives and works in Northeast Minneapolis.
Related Events: