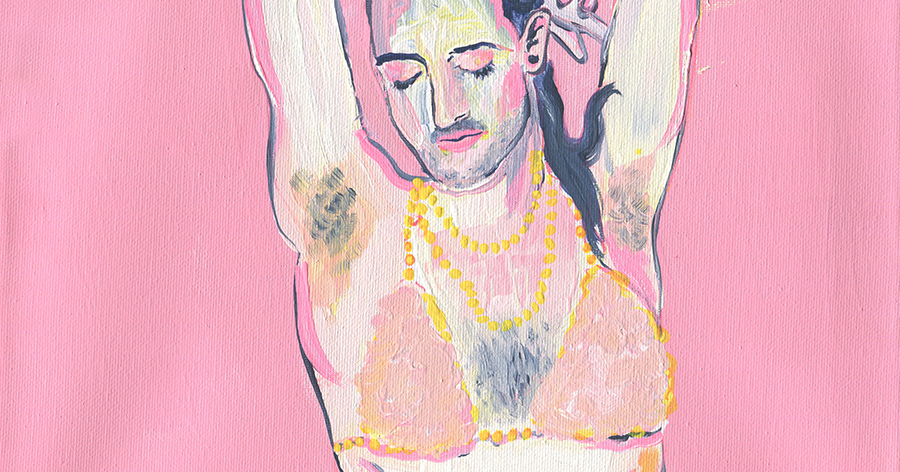 Soft Boundaries
Group exhibition explores vulnerability, radical softness and the boundaries that test and influence our identityEvent Website

Showing

Apr 28th - May 18th, 2018

Opening

Sat Apr 28th, 2018 7PM - 11PM CST

Performance Night

Thu May 3rd, 2018 7PM - 9PM CST
Gamut Gallery
717 S 10th St
Minneapolis
( map )
Curated by Juleana Enright, this show feature local and national artists: Blair Moore, Dom Laba, Lamia Abukhadra, Laurie Borggreve, Mikki Coleman, Nadia Honary, shhhhame, and Zeam Porter.
In identity and expression, toughness and tenderness aren't typically synonymous. To be soft and vulnerable is a sign of weakness, to be open is seen as an invitation to be manipulated. We place boundaries as a way to give us a sense of structure and security - emotionally, mentally, physically - but what happens when these boundaries get muddled? How does one embrace emotionality through identity? If vulnerability is the birthplace of joy, creativity, belonging and love, why is it so difficult for us to be tender and find calmness in the unknown?
For Soft Boundaries, eight artists explore how the vulnerable narrative can be used as an act of resistance, liberation and healing. Through the mediums of illustration, photography, video and audio installation, mixed media, book art, and sculpture, the artists present the distortions which keep us from wholly seeing ourselves and others, and the limitations when identity is categorized into the binaries of hyper-visible and invisible. Examining intersecting identities through art, Soft Boundaries sets out to showcase the power of radical softness as a weapon and the strength and truth in allowing ourselves to be fully open.
Juleana Enright is a femme, queer, indigenous writer and curator. They have over ten years of experience writing about art and culture in the Twin Cities writing for local publications mplsart.com, NEMAA, l'étoile magazine and City Pages. In their curatorial projects, they strive to provide visual and artistic content which highlights and represents femme, non-binary and queer POC artists in the community. Juleana is the co-curator of FEELS, a monthly, multi-sensory queer dance night at the intersection of art and feelings. Soft Boundaries marks their first solo curatorial exhibition.


EXHIBIT OPENING RECEPTION
Saturday, April 28th, 7-11pm, $5 or Free with Gallery Membership
Featuring a curated playlist exploring softness by Bleak Roses
PERFORMANCE NIGHT
Thursday, May 3rd, 7-9pm, $10 or Free with Membership
An evening of responsive performances from Marcel-Michelle Obama, Zeam Porter and Sonja Elise Johanson & Cole Mealey of A M O D E L