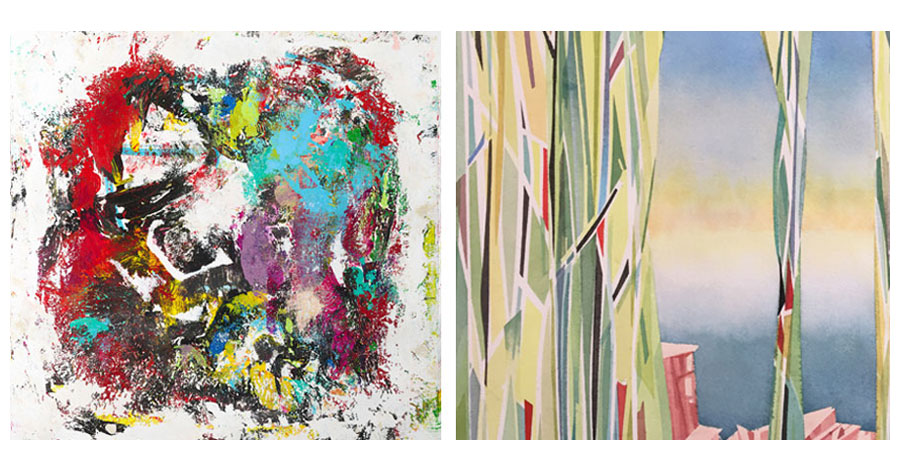 Shawn McNulty: Striations / David Malcolm Scott: Aerials
New paintings in two solo showsEvent Website

Showing

Apr 7th - Apr 29th, 2018

Opening Reception

Sat Apr 7th, 2018 7PM - 10PM CST
Rosalux Gallery
1400 Van Buren Street NE
#195
Minneapolis
( map )
Shawn McNulty: Striations
McNulty's paintings explore the relationship between man-made structures and the natural world; the idea of recognizable shapes and structures living within irrational thoughts and emotions. The artist applies many layers of acrylic and pumice to the canvas using unorthodox methods such as a shoe palette knife (with his foot), plexiglass, brooms, and almost anything that is not a brush. McNulty, now a mid-career artist, has moved away from his signature style geometric abstractions into an arena of organic forms and complex compositions. The heavily textured work in STRIATIONS brings to mind ancient structures or rock formations that have been eroded over hundreds of years, or completely obliterated. The artist avoids the common zone out of many abstract painters for a refreshing battered mediation that doesn't let you relax completely.
David Malcolm Scott: Aerials
The paintings of David Malcolm Scott act as a cross-temporal between the artist and our environment, revealing to us a visual abstraction of the collision between the man-made and natural worlds. Often in the form of a watercolor scroll his paintings tell visual stories of places and events through time. As a corollary to the diversity of his subject matter, Scott's art incorporates a variety of media: watercolor, acrylics, drawing in pencil and ink, collage and photography. The resulting work draws the viewer into a rich non-verbal history recorded in rivers, prairies, lunar cycles, and human settlements.
Opening Reception
Apr 7th, 7 - 10PM

Exhibition
Apr 7th - 29th

Hours
Sat and Sun Noon - 4PM
or by appointment​