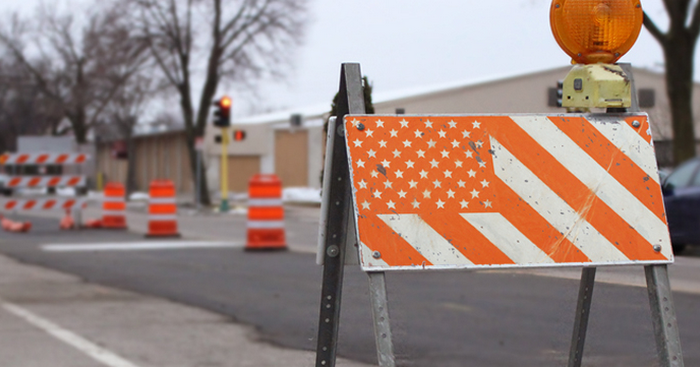 Russ White: Situation Normal
New drawings and sculptures inspired by fearful timesEvent Website
Showing

Mar 4th - Mar 19th, 2017

Reception

Sat Mar 4th, 2017 6PM - 10PM CST

Artist Talk

Sat Mar 11th, 2017 4PM - 6PM CST

Closing

Sun Mar 19th, 2017 12PM - 5PM CST
Truckstop Gallery
20 Grove St
#72
Minneapolis
( map )
Russ White's new body of work uses orange and white traffic barricades as a kind of mixed metaphor for our current national mood. In day-to-day life, these traffic cones and "Road Closed" signs stand in our way; they slow us down, they reroute our commute, they inconvenience us. But from another perspective, they are beneficial. They are signs of roads being fixed, of bridges being built, of infrastructure being strengthened. Of progress.
And now, as millions of people across the country have begun banding together to protest the initiatives of this new administration, the barricades in White's work reflect this dutiful resistance. Staunch and impassive, emblazoned with an American flag reworked in dirty white and safety orange, these barricades are both a call to arms to resist the unAmerican initiatives of this administration and a sober reflection of the caution and care with which we must approach current political events.
The show will feature large scale colored pencil drawings, sculptures, and flags. It takes its name from the military acronym SNAFU, meaning "Situation Normal: All Fucked Up." The work in this exhibition strives to remind viewers that this new political reality is, in fact, not normal at all.
A percentage of sales at the show will be donated to Planned Parenthood and the Southern Poverty Law Center. The gallery will be collecting donations for these organizations at the opening reception as well.