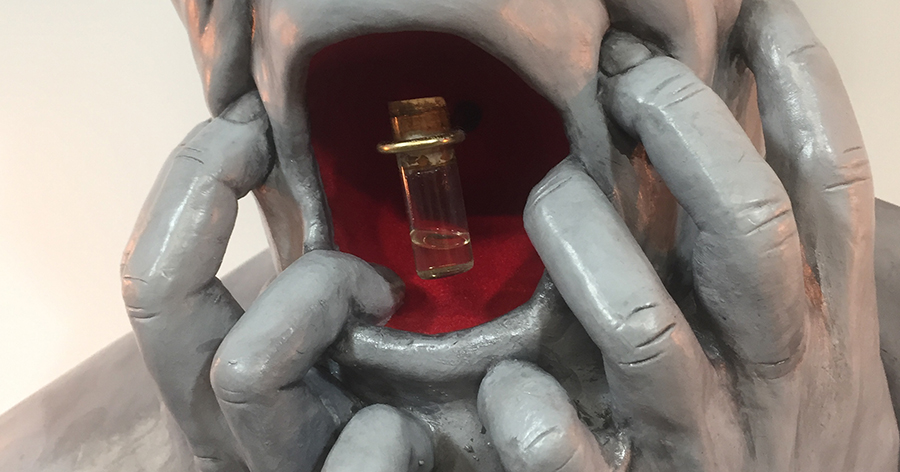 PURGE
New work by Bethany Grabert as part of the Minnesota State Arts Board Artist Initiative Grant
Event Website
Two Day Showing

Feb 24th - Feb 25th

Reception

Sat Feb 24th 6PM - 9PM CST
Modus Locus
3500 Bloomington Ave S
Minneapolis
( map )
Raised by strict Roman Catholics in rural South Louisiana, Bethany has always been fascinated and inspired by icons, altars and adornment of precious objects. Her art redirects this awe she felt, as a child, for the otherworldly environment of traditional Catholic churches and points toward the shame too-often accorded the body, especially female, in Catholic tradition.
She is reclaiming agency over the female body: its shape, its perception, its relationship to the public gaze. Her work utilizes the female figure as a vessel for precious objects collected from her past, transforming the body into a reliquary. Her sculptures are a visual narration and an act of catharsis, a purging of my past experiences with sexism, domestic abuse, heartbreaking loss, and her ongoing struggle with Endometriosis.
OPENING RECEPTION - Sat Feb 24, 6-9PM
VIEWING HOURS - Sun Feb 25 11AM-4PM
#mplsart
If you are making art or looking at art in the Twin Cities, use the hashtag to show it off.