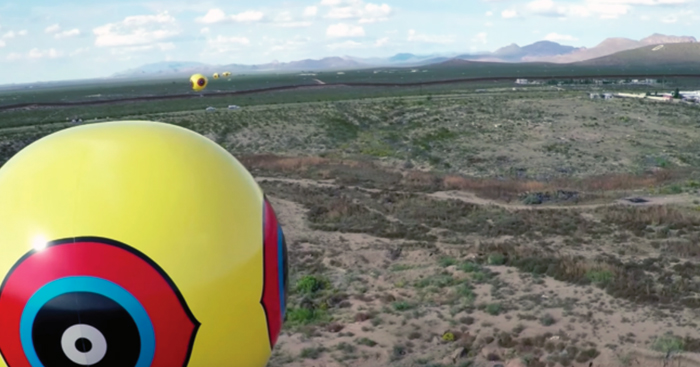 Postcommodity
Bockley Gallery in collaboration with Walker Art Center introduce to the Twin Cities the work of Postcommodity, an art collective based in the Southwest.Event Website
Showing

Mar 10th - Apr 15th, 2017

Opening

Fri Mar 10th, 2017 6PM - 8PM CST
Bockley Gallery
2123 W 21st St
Minneapolis
( map )
In 2015 Postcommodity installed Repellent Fence, a work that raised questions as to what a border is—a divider, a filter, as well as a site of potential meeting, an arbitrary line cut into ancient land, home to indigenous people for thousands of years.

Bockley Gallery will host an exhibition based on Postcommodity's Repellent Fence, a 2015 installation on the U.S.-Mexican border. The Walker Art Center will host an artist talk March 11th, 6PM and an Op-Ed launch March 6th.
​
About Postcommodity
​Postcommodity is an interdisciplinary arts collective comprised of Raven Chacon, Cristóbal Martínez, and Kade L. Twist. The collective creates immersive environments, sound, video, and performance. Through contemporary art, the collective connects narratives of indigenous self- determination with the public sphere.
The collective has exhibited nationally and internationally, including at Contour: 5th Biennial of the Moving Image, Belgium; Nuit Blanche, Toronto; 18th Biennale of Sydney, Australia; Pennsylvania Academy of Fine Art Museum, Philadelphia; and their first museum solo exhibition at Scottsdale Museum of Contemporary Art, Arizona. Their work can be seen in the Whitney Biennial (March 17–June 11, 2017); their solo show, Coyotaje, at Art in General (March 24–May 26); and in Sam Wainwright Douglas's documentary, Through the Repellent Fence: A Land Art Film. In 2018, Postcommodity will unveil a new commission at the San Francisco Art Institute.

Artist Talk: March 11th, 6PM, Walker Art Center