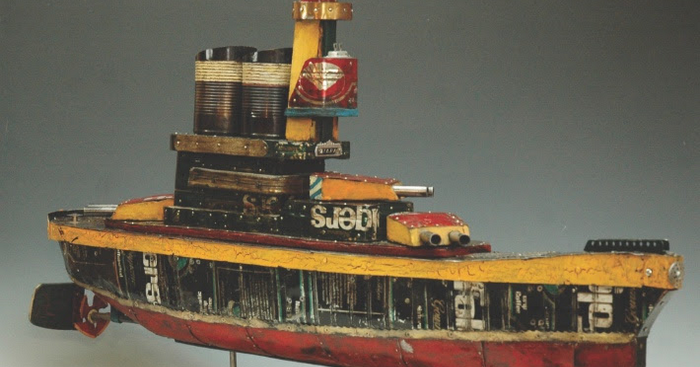 Playful Reflections
An exhibition of new work featuring sculpture by Kyle Fokken and paintings by Bruce Nygren and Virginia Randolph BueideEvent Website
Showing

Mar 4th - Apr 15th, 2017

Opening

Sat Mar 4th, 2017 6PM - 9PM CST
Douglas Flanders & Associates
818 West Lake St
Minneapolis
( map )
In Douglas Flanders & Associates newest exhibition, sculptor Kyle Fokken and painters Bruce Nygren and Virginia Randolph Bueide transform their visions into thought and memory provoking worlds. A unique spirit arises out of each artist's playful reflections.

Kyle Fokken is a mixed media sculptor who combines juxtaposed materials into hybrid sculptures that surreally explore intergenerational cultural contexts. Fokken gravitated towards using found objects at an early age out of necessity. As a fairly poor kid he would rescue other kids' discarded plastic model airplanes, cars and ships from the trash to rework them. This naturally led him as an adult to creating sculptures with what he calls "my make do aesthetic". Kyle Fokken has public sculptures located around the United States and in London, Great Britain. A newly commissioned outdoor public sculpture for the Minneapolis Lyn-Lake neighborhood will be dedicated later this year. Check out our interview with Kyle Fokken from May 2015.

Bruce Nygren is a painter and printmaker who playfully brings the fantastical to his subject matter. He juxtaposes unlikely elements and makes them seem natural, in a dream-like way. A bit of mystery is created, too. Frequent subjects are landscapes inhabited by old children's toys.

Virginia Randolph Bueide has always been influenced by her surroundings regarding content in her paintings. Her Water Lily series came about by chance. In her travels Ginny met a biologist who happened to have expert knowledge of water lily plant structure. Her inspiration, in turn, arose from a closer look around her own neighborhood, the ponds, lakes and woodlands of Bloomington, Minnesota. The resulting paintings reveal the sensuality of this plant and its flower, whose scientific name is "Nymphaea". It comes from a Greek word "nymph", that in Greek mythology means a feminine spirit that inhabited water bodies like lakes, waterways, and springs.

Image Credit: Kyle Fokken, Coffee Tin Battleship, 2012 Mixed media (scrap metal over wood, acrylic, steel), approximately 30" x 36" x 12"