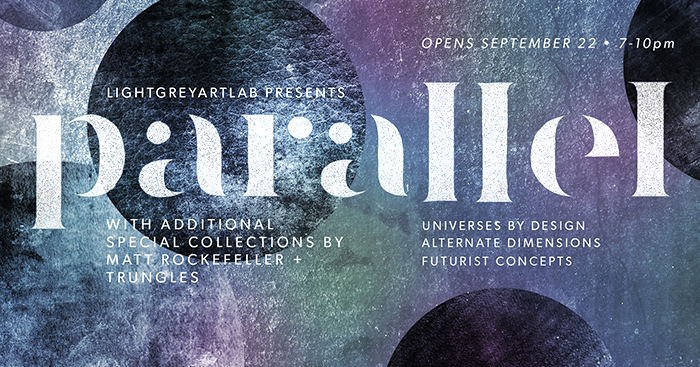 Parallel / Crossroads / The Magic Fish / Then | Now
Four new exhibitions that feature alien worlds, repeating timelines, far flung fantasy, and limitless imagination.Event Website

Showing

Sep 22nd - Oct 21st, 2017

Reception

Fri Sep 22nd, 2017 7PM - 10PM CST
Light Grey Art Lab
118 East 26th St
#101
Minneapolis
( map )
Parallel is a group exhibition featuring over sixty artists from around the world, all coming together to explore the concept of 'what if?' Each participant was asked to create the vision of a world or dimension that could be, creating a unique and engaging peek into a parallel universe. For the launch of Parallel, these fantastic landscapes will come together as a series of large format panoramas, each a window to an alternate dimension, turning Light Grey Art Lab's main gallery into the nexus of the multiverse.
Crossroads by Matt Rockefeller In conjunction with the Parallel exhibition, Matt Rockefeller will be exhibiting a body of new work, Crossroads. Rockefeller is an illustrator and comic artist known for work that is rich with details that provoke a strong but unspoken narrative, who's created work for Harper Collins, Cartoon Network, Scholastic, Simon & Schuster, Random House/ Penguin, and DC Comics.
The Magic Fish by Trung Nguyen Old stories have a habit of finding new life in new places. Themes and conflicts repeat themselves again and again throughout time and across worlds, which explains why we might seem to already understand them deep in our bones. This idea is at the center of a new collection of work titled The Magic Fish by comic book artist Trung Le Nguyen, aka Trungles, who has contributed work for Oni Press, Boom! Studios, Limerence Press, and Image Comics.
Then | Now: Childhood Revisited is a new book that asked thirty artists to dig through their attics and archives to unearth some truly bizarre and endearing artwork from their early days, and reinterpret and recreate it with the tools and abilities gained after years of professional practice. A published collection was successfully funded on the crowdfunding platform Kickstarter earlier this year by creators Adam Hoppus and Bob Rissetto.
The opening reception is free and open to the public, and features artwork, music, and refreshments.