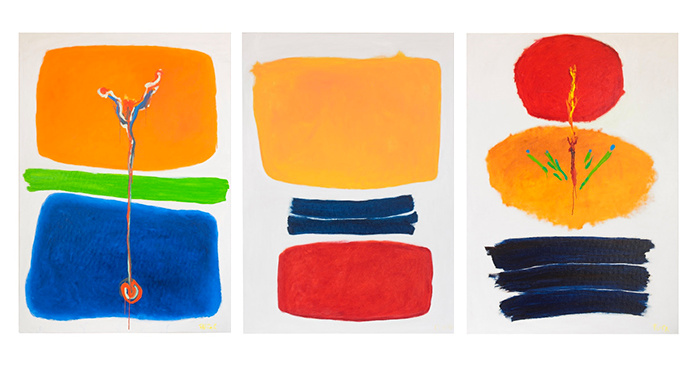 Paintings by Jerome Tupa
Bold, powerful paintings express a fascinating look into the artist's spiritual world.Event Website

Showing

Oct 28th - Nov 25th, 2017

Reception

Sat Oct 28th, 2017 6PM - 9PM CST
Douglas Flanders & Associates
818 West Lake St
Minneapolis
( map )
Douglas Flanders & Associates is pleased to present the bold, powerful paintings of Jerome Tupa. Large centralized iconic shape and line compositions in bold colors express a fascinating look into his spiritual world. The paintings in this exhibit were created from years spent near the Mediterranean Sea. Thus, the paintings express landscape forms of sun, sea and earth.
Tupa explains "Exploiting artistic materials led me to spend years using a variety of paint to express spiritual and philosophical ideas. Like all the series I have created over the past decades, the work is always a relationship between the deep inner earthiness rising to a bright glow of color."
A native of North Dakota, Father Jerome Tupa is a modern day version of a Renaissance man. With a doctorate in French literature he was a professor of French at Saint John's University in Collegeville, Minnesota. He is currently Pastor of the Church of St. Joseph in St. Joseph, Minnesota. Jerome Tupa has exhibited internationally. Interesting, in 2003 Tupa was featured in a CBS Sunday Morning story titled Monk Has Passion For Painting.