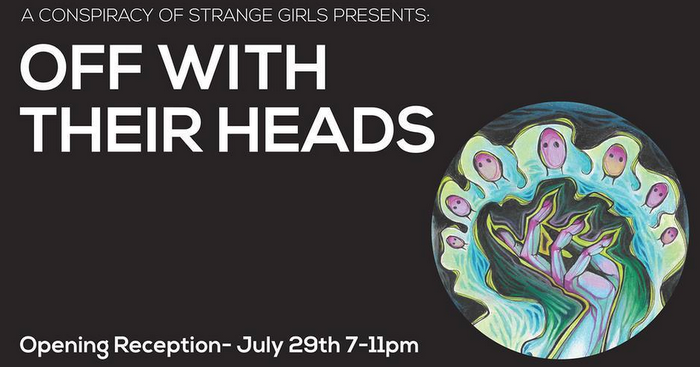 Off With Their Heads
A multidisciplinary group show that explores storytelling, identity, healing, and catharsis through decapitation in art, history, and culture. Warning: Show will have graphic depictions of violence.
Event Website
On View

Jul 29th - Aug 29th, 2017

Reception

Sat Jul 29th, 2017 7PM - 11PM CST

Closing Reception

Fri Aug 25th, 2017 7PM - 10PM CST
CO Exhibitions
1101 Stinson Blvd
Suite 2
Minneapolis
( map )
Warning: Show will have graphic depictions of violence.
A Conspiracy of Strange Girls is returning to CO exhibitions once more for OFF WITH THEIR HEADS - a multidisciplinary group show that explores storytelling, identity, healing, and catharsis through decapitation in art, history, and culture.

Opening night admission: $5-20 - Sliding Scale
20% of door sales will be donated to the Domestic Abuse Project (10% from CSG and 10% from CO exhibitions)

Tintype Photobooth by Blkk Hand

Strange Girls merch, including limited edition T-shirts

Door prizes from The Smitten Kitten, Glam Doll Donuts, and more!

Music:
Sass
4th Curtis
the Florists
The Beheadresses
DJ Hyperkarma

Food & Drink:
Modist Brewing Company
Sssdude-Nutz
Urban Sub
#mplsart
If you are making art or looking at art in the Twin Cities, use the hashtag to show it off.