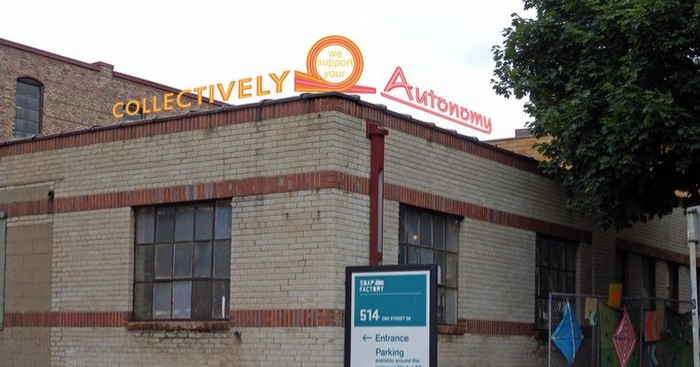 Monica Sheets: Collectively We Support Your Autonomy
Monica Sheets installs a large-scale neon sign created in collaboration with Ne-Art Custom Neon in Northeast Minneapolis on the Soap Factory's roof.Event Website

Opening Reception

Sat Oct 14th, 2017 7PM - 10PM CST
The Soap Factory
514 2nd St SE
Minneapolis
( map )
The text – "collectively we support your autonomy" – is inspired by the participatory art projects Monica Sheets has previously initiated, offering a reflection of and comment on the relationships between artist, participant, artwork and audience.
According to Monica, "We can also see this relationship in The Soap Factory's role in the Twin Cities' art community. It is the support provided by organizations such as The Soap that enables artists' autonomy in exploring their varied interests and contributing their knowledge to the world. It is also our collective support of these organizations as artists, audience and volunteers that ensures their continued existence. It seems fitting to me to emphasize these reciprocal roles on The Soap Factory's exterior while its interior is closed in order to undertake renovations that ensure its own autonomy and continued existence."
This project is supported and presented as part of
Here & There: Rethinking Public Spaces
, The Soap Factory's 2017 public programming. Rethinking Public Spaces presents artist projects that enliven underutilized spaces throughout Minnesota, rethinking public space and considering what it means to place-make through a contemporary, celebratory, and critical lens. This installation will be up from October 14, 2017 to October 14, 2018.