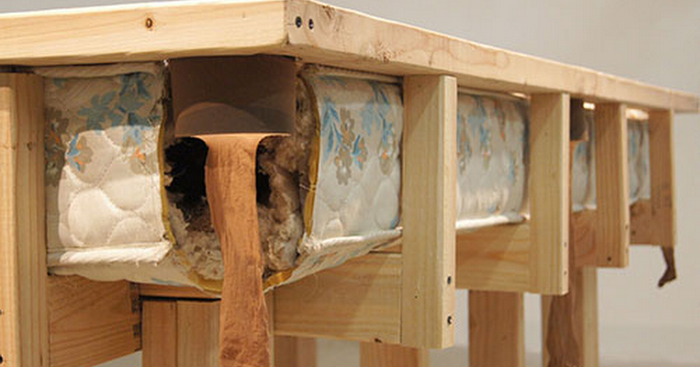 Making Room
The Regis Center for Art presents Making Room, a group exhibition of sculptural works curated by fourth year undergraduate student Elise Armani.
Event Website
Showing

Mar 28th - Apr 22nd, 2017

Reception

Sat Apr 8th, 2017 7PM - 11PM CST
Regis Center for Art Quarter Gallery
405 21st Ave S
Minneapolis
( map )
The Regis Center for Art presents Making Room March 28 through April 22, 2017. The exhibition features work by 9 contemporary artists living and working in the Midwest who explore the relationships between objects, the body, queerness and the domestic space. The included artists work across a range of contemporary art practices including ceramics, performance, quilting, and sculpture and are united by their common interest in permeating established boundaries that divide the personal and political, the private and public, and the functional and artistic object. Challenging the way we inhabit and move through space both physically and conceptually, the works raise questions of access, mobility, and the way our identities shape our experience of place.

Artists featured in the show include Anna Campbell, Paige Carlson, Michael David Franklin, Marc LaPointe, Daniel Luedtke, Rosemary McBride, Emmett Ramstad, Alaura Seidl and Dustin Yager.
#mplsart
If you are making art or looking at art in the Twin Cities, use the hashtag to show it off.