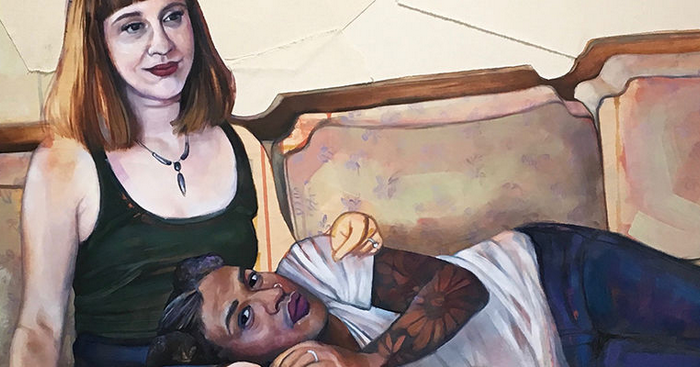 Leslie Barlow: Space Between Us
Paintings from Leslie Barlow that investigate the complex narratives of race and identity and the politics of visibility and representationEvent Website

Opening Reception

Sat Nov 4th, 2017 6PM - 8PM CST

On View

Nov 4th - Dec 15th, 2017

Conversation with the Curator

Wed Nov 15th, 2017 7PM CST
The Catherine G. Murphy Gallery, St. Kate's University
2004 Randolph Ave
St Paul
( map )
Building upon her recent Loving series – mixed-media portraits of interracial families in the Twin Cities – Minneapolis painter Leslie Barlow continues to investigate the complex narratives of race and identity, and the politics of visibility and representation. This show introduces new paintings to the series, including images of the artist's family, revealing her personal experiences as a mixed-race woman living in Minnesota.
Leslie Barlow is a practicing artist living and working in Minneapolis. Primarily an oil painter, Barlow's current work employs the figure and narrative elements to explore social issues such as race, representation, multiculturalism and "otherness." She investigates these themes through a lens of personal experience, often creating works depicting family, friends and people in her community. Her paintings reflect the subtle and not-so-subtle complexities of identity and individualism. Barlow received her B.F.A. in 2011 from the University of Wisconsin-Stout and her M.F.A. in 2016 from the Minneapolis College of Art and Design. In 2016, she received a Minnesota State Arts Board Artist Initiative Grant, and that same year, she was the artist-in residence at Whitworth University in Spokane, Washington. Her work has been included in solo and group exhibitions throughout the Twin Cities, most recently at the Minnesota Museum of American Art in St. Paul and at Public Functionary in Minneapolis. In addition to her studio practice, Barlow currently works as an Assistant Instructor at Juxtaposition Arts and she teaches drawing at the University of Minnesota.


Conversation with the Curator: Wednesday, November 15, 7 p.m. | Sponsored by the Women's Art Institute
Leslie Barlow discusses Space Between Us with Women's Art Institute instructor Anna Garski and gallery director Nicole Watson
All events are free and open to the public.

Editors note: This show runs simultaneously with Melissa Loop: After the End. Also be sure to check out our interview with Barlow from 2016.