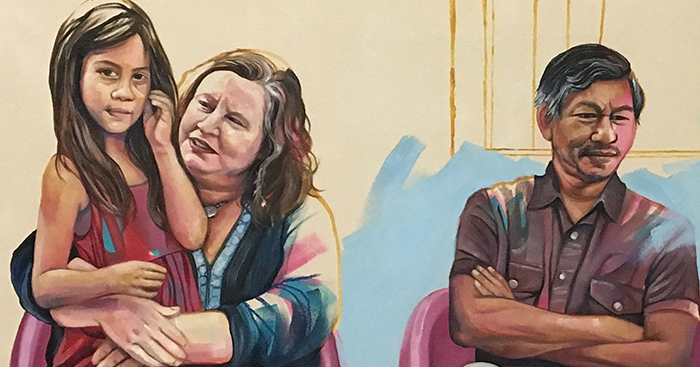 Leslie Barlow: Loving
Large-scale portraits featuring interracial families from the Twin CitiesEvent Website
Showing

Feb 25th - Mar 25th, 2017

Reception

Sat Feb 25th, 2017 7PM - 12AM CST

Artist Talk

Sat Mar 18th, 2017 2PM CST
Public Functionary
1400 12th Ave NE
Minneapolis
( map )
Leslie Barlow explores current social issues by using herself, family members and members of her community as the subjects in her paintings. Her new body of work features 10 large-scale paintings that layer a variety of media -- oil paint, charcoal, acrylic, gesso, pastel, photo transfer, and textiles. The paintings make visible a community that represents the changing dynamics of Minnesota. The invisibility of multiracial families sends an unhealthy and inaccurate message to people and families with these lived experiences. Challenging perceived family normalcy and the lack of representation of diverse family dynamics, Barlow's paintings depicting interracial couples and mixed race families, communicating something both unique and mundane in their presence and relationships.
Study of the Loving v. Virginia Supreme Court Case has been an important part of Barlow's understanding the culture of discrimination surrounding interracial relationships and mixed race people. Anti-miscegenation laws were a part of the US since before the nation was established, and remained so until ruled unconstitutional fifty years ago, in the 1967 court case. The case was brought by Mildred and Richard Loving, a black woman and white man, who had been sentenced to a year in prison in Virginia for marrying each other. The strong link between fear and discrimination binds together the Loving era to the present-day. As the outcome of the presidential election weighs heavily and reinforces the persistence of racial and social divides in our country, on this 50th anniversary of the Loving case we are reminded that, while some progress has been made, we have so much further to go.
The works in this exhibit are moments of the everyday: some intimate, some reminiscent of traditional family portraits, some fleeting and barely captured. Barlow approaches each work differently allowing the subjects to take center stage, drawing upon the commonalities between families while also honoring the differences. Barlow weaves together the complexities of their lived experiences, and allows the exposure of raw wood and canvas to serve as perceptual uncertainties that cast doubt on our "known" understanding of the world–pushing investigation into the politics of representation, and what it means to be bonded as family. The narratives in the work allow space for questions and conversation about race, race relations, identity, and family. Ultimately, the works come together to communicate a new story, a story that challenges superficially-simple narratives, celebrates that which makes us unique, and underscores that love knows no barriers.