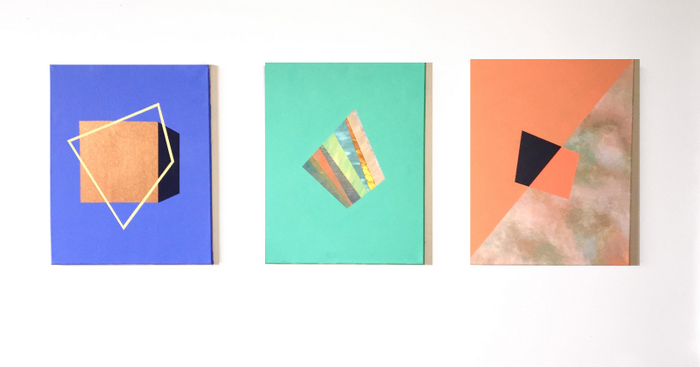 Kate Iverson: Semblance of Disorder
An in-Studio Pop-Up Exhibit during Art-A-Whirl 2017Event Website

Open Studio

May 19th - May 21st, 2017
Kate Iverson Studio, 1101 Building
1101 Stinson Blvd
#8
Minneapolis
( map )
Please join artist
Kate Iverson
during
Art-A-Whirl weekend
for an exclusive pop-up exhibit of her work at her new studio in the
1101 Building
. Enjoy live art demos, special guest artists, complimentary snacks from Tomodachi, art activities for both kids and adults as well as other open artist studios throughout the building.
ABOUT THE EXHIBIT
Semblance of Disorder is a selection of works created by Kate Iverson throughout 2016-2017. Ranging from pieces on canvas and panel to framed and loose works on paper, Kate's artwork often crosses mediums such as tempera, watercolor, acrylic, ink, Japanese washi tape and more.
Pieces in the exhibit include vibrant, shape-driven works inspired by contemporary design and randomized structure, with color palettes influenced by international fashion color stories. Other works embrace a more stark, minimalist approach, with strong lines juxtaposed by soft abstraction via black and white works on paper. Though Iverson's palettes often contrast per collection, her distinctive, design-minded aesthetic and sense of abstract geometry are fluent throughout her work.
ABOUT THE ARTIST
Kate Iverson is a mixed media artist and painter living and working in Minneapolis, MN. She has exhibited her work locally and nationally, at spaces such as The Soap Factory, SooVAC, CO Exhibitions and more. She's received a number of awards and accolades for her work in arts, media and leadership, and was awarded a Tofte Lake Center artist residency through the Jerome Foundation in 2014. She is also co-founder and current board chair of award-winning art space, Public Functionary. Focusing on the parallels between order and chaos, nature and design, Kate's work often mixes a variety of mediums and techniques.
DETAILS
Free and open to the public during regular Art-A-Whirl® hours:
Friday, May 19th / 5pm to 10pm
Saturday, May 20th / Noon to 8pm
Sunday, May 21st / Noon to 5pm