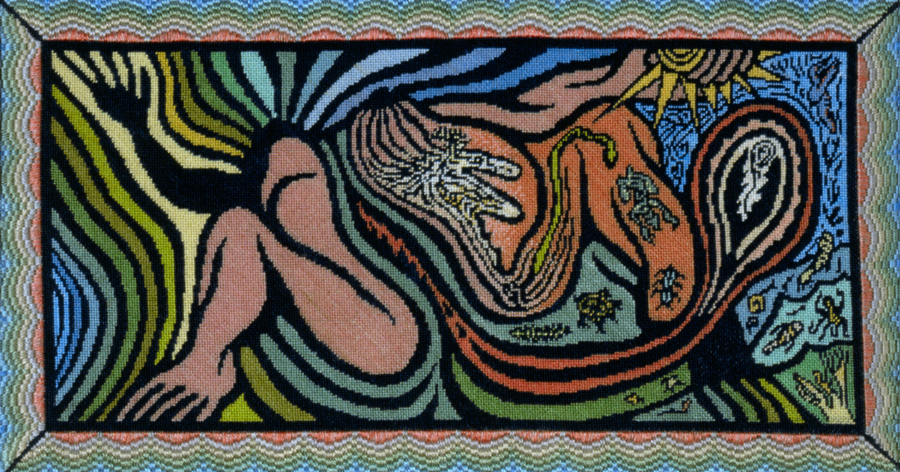 Judy Chicago's Birth Project: Born Again
Curated by Dr. Viki D. Thompson WylderEvent Website

Showing

Feb 3rd - Feb 16th, 2018

Reception

Sat Feb 3rd, 2018 6PM - 8PM CST

Panel Discussion

Wed Mar 7th, 2018 7PM - 8PM CST
The Catherine G. Murphy Gallery, St. Kate's University
2004 Randolph Ave
St Paul
( map )
IC: Judy Chicago, "Creation of the World,' 1984, petit point (needleworker: Jean Berens), 10.75 x 15", Courtesy: Through the Flower, ©Judy Chicago
The Catherine G. Murphy Gallery at St. Catherine University presents Born Again as one of two simultaneous exhibitions that explore the history and evolution of feminist imagery in contemporary art.
Born Again features selected artworks from Judy Chicago's Birth Project, a series of screen prints, needle works and textiles that first toured the United States during the mid-1980s. Chicago collaborated with over 150 experienced needle workers to create this series, which addressed the dearth of birth imagery in Western art. Born Again takes a fresh look at the themes investigated in the Birth Project and considers their impact – art historically, societally and intellectually – 30 years after its creation.
Born Again is in the West Gallery.