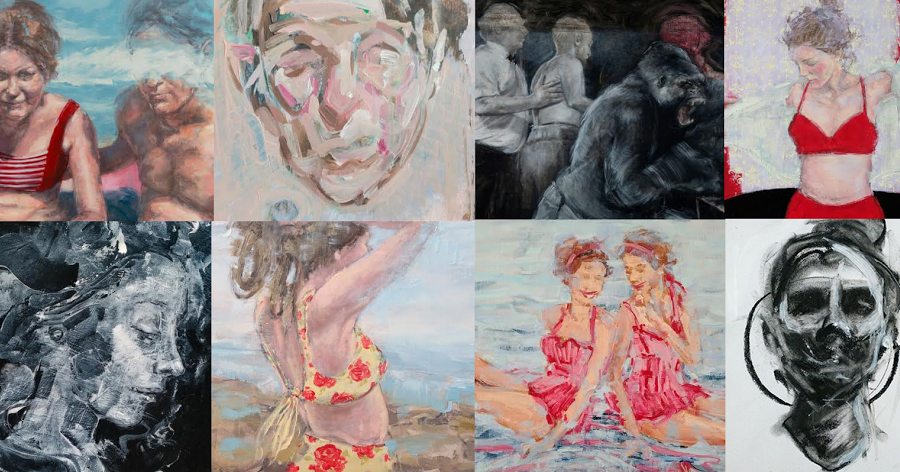 J. M. Culver @ Art-A-Whirl®
New Paintings + Special Studio Inventory SaleEvent Website

Open Studio

May 18th - May 20th, 2018
California Building
2205 California St NE
Minneapolis
( map )
Fri, May 18 5pm-10pm
Sat, May 19 Noon-8pm
Sun, May 20 Noon-5pm
J. M Culver will exhibit oil paintings and drawings, along with a *Special Studio Inventory Sale* during Art-A-Whirl. Affordable works from the last 10 years with original art starting at $15 and up. Featuring sketches, drawings, collage, paintings, jewelry, and art magnets. Themes include: portraits, nudes, abstracts, landscapes, beach scenes, and surreal/odd pieces.
Guest Artist, Kimberly Lang will exhibit mixed media portrait paintings and human-animal hybrid sculptures. Come shop affordable original art while enjoying light refreshments, sweet treats, and chill upbeat music during Art-A-Whirl. California Building, Studio #505.
This is the first time in 3 years J. M. Culver has opened her studio to the public and this is a one-time special sale on original art at super affordable prices, so don't miss out!
jmculver.com | Narrative/Figurative/ConceptualArtwork
culverfineart.com | Vibrant Paintings for Contemporary Spaces
"ART-A-WHIRL® is an open studio tour in Northeast Minneapolis showcasing the work of NEMAA members. ART-A-WHIRL® is a federally-registered trademark of NEMAA."