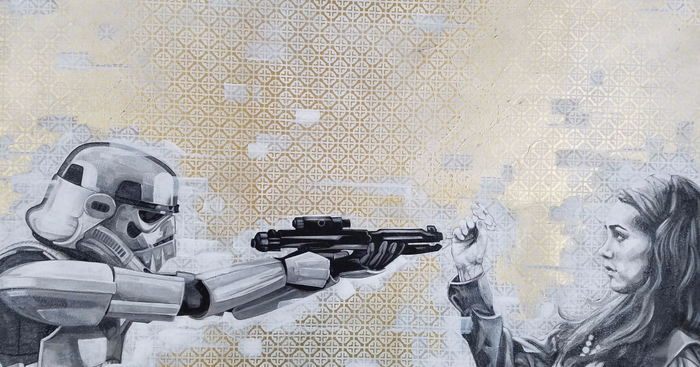 In A Gallery Far, Far Away...
A 3-day exhibit celebrating Star Wars with original artwork from local artists, curated by Mark Dean and Kurtis "Kujo" Johnson.Event Website

On View

Dec 14th - Dec 16th, 2017

The Party

Sat Dec 16th, 2017 7PM - 11PM CST
Gamut Gallery
717 S 10th St
Minneapolis
( map )
In A Gallery Far, Far Away... presents a celebration of Star Wars, paying homage to the franchise while including a variety of artists from different backgrounds working in various media, showcasing that Star Wars is not defined by George Lucas or Disney, but belongs to the fans.
THE PARTY // [$5 entry or FREE w/ Membership]
Saturday, December 16, 2017, 7-11pm
The party will feature a live orchestral performance of the Star Wars theme song in addition to other inspired improvisations by Adam Conrad's Improvestra. The Headspace Collective will bring us back to the times of the original Star Wars release by spinning late 70's era disco, and Andy Fitton will contribute a space-inspired ambient DJ set to the festivities. Star Wars costumes are strongly encouraged.
GALLERY HOURS // [FREE]
Thursday, Friday, and Saturday 1-7pm
Exhibit runs three day only!! December, 14th-16th, 2017