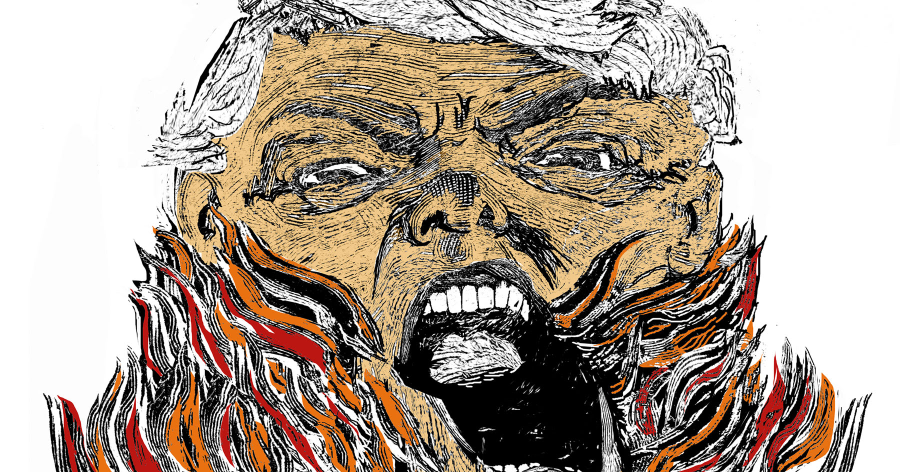 HELLMOUTH
New work by Ruthann Godollei reminds you to wake up and smell the sulfurEvent Website

Showing

Jan 26th - Mar 4th, 2018

Reception

Fri Jan 26th, 2018 6PM - 9PM CST

Public Discussion

Thu Mar 1st, 2018 7PM - 9PM CST
Law Warschaw Gallery, Macalester College
Fine Arts Commons 105, 130 S Macalester St
St Paul
( map )
The Hellmouth is a medieval motif depicting the damned and the unrepentant swallowed by the gaping jaws of a demonic beast. The Hellmouth reminds you to wake up and smell the sulfur.
"This is the worst political landscape I have ever seen." Ruthann Godollei is in dismay. "It is not just one errant leader or a set of craven elected office-holders, it is a corrosive cultural climate raining fire, gleeful at causing others pain."
Drawing on the bluster and bombast of antique circus imagery the artist researched at Circus World Museum in Baraboo, Wisconsin, Godollei's work drags up the twisted and pathetic underbelly of the current presidential administration's "big show."
Public Discussion: The Political Print
Thursday, March 1
7–9 pm
Law Warschaw Gallery
Janet Wallace Fine Art Center

Ruthann Godollei and fellow artists Aaron Ortiz-Johnson ("EXILE & UTOPIA") and Sam Gould (Beyond Repair and Transmission), reflect on the power of print as a disseminator of artists ideas and everyday politics.

This conversation is presented in conjunction with "Hellmouth," an exhibition by Ruthann Godollei on view now through March 4th at the Law Warschaw Gallery.