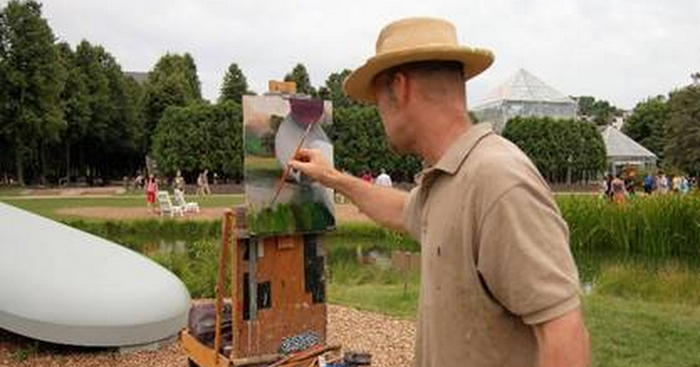 Groveland Gallery Plein Air Invitational
The exhibition will feature work by 10 Groveland Gallery artists and 7 guest artists who work in a variety of medium – watercolor, oils, acrylics, and oil pastels.Event Website

On View

Jul 20th - Sep 1st, 2017

Reception

Thu Jul 20th, 2017 5PM - 8PM CST

SmackDown

Sat Aug 5th, 2017 10AM - 4PM CST

Sale

Sat Aug 5th, 2017 4PM - 6PM CST
Groveland Gallery
25 Groveland Terrace
Minneapolis
( map )
Groveland Gallery is pleased to announce the July 20th opening of the first Groveland Gallery Plein Air Invitational. The exhibition will feature work by 10 Groveland Gallery artists and 7 guest artists who work in a variety of medium – watercolor, oils, acrylics, and oil pastels. Since 2010, the gallery has hosted an annual Plein Air SmackDown which has included dedicated plein-air painters as well as Groveland Gallery artists who paint outdoors from time-to-time. Because of the popularity and fun of the SmackDown, the gallery has expanded this year's event to include this invitational exhibition.
Plein air painting – paintings made outdoors – became popular in the mid-nineteenth century when artists turned to the landscape as subject. At the same time, the simplification of materials allowed artists to use pre-mixed tubes of paint, instead of mixing their own. This gave them more freedom to paint beyond the studio, within the landscape and directly from their subjects. Prior to this time, artists generally used their small, outdoor watercolors and sketches as reference material for larger and more complex paintings made later in the studio. By contrast, plein air painters take advantage of the natural light, atmosphere and color in the outdoor environment. Over the last decade, plein air painting has enjoyed a resurgence and plein air festivals and exhibitions can be found across the U.S. every summer.
Groveland Gallery's most popular summertime event, the Plein Air SmackDown, returns. Artists will choose between three locations: the Loring Park Neighborhood, Lake of the Isles, and the Downtown Riverfront. On August 5th, artists will paint en plein air and the public is invited to visit them on location throughout the day. All artists and observers are encouraged to return to the gallery for a party on the front porch at the end of the day. The day's paintings will be available for sale.