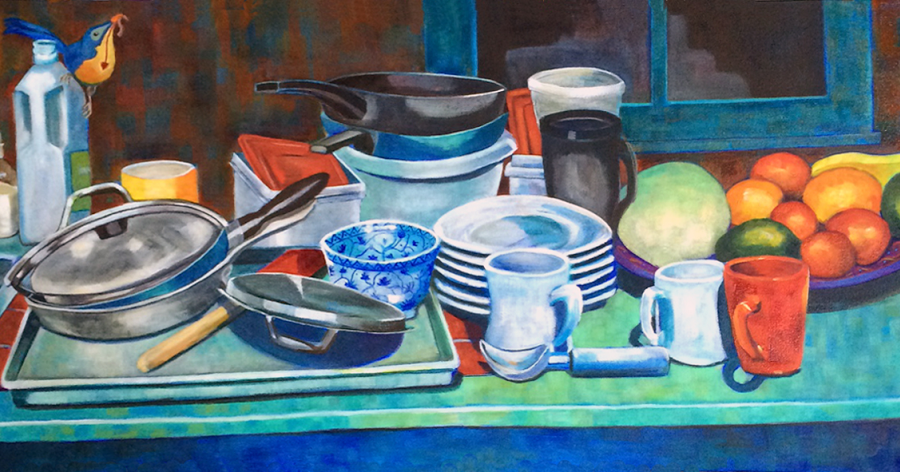 Foodways
Exhibition highlighting how contemporary Minnesota-based artists use the subject of food to reveal patterns of consumption, processes of acculturation, and the power of memoryEvent Website

Showing

Jun 8th - Aug 12th, 2018

Reception

Fri Jun 8th, 2018 6PM - 9PM CST
Minneapolis College of Art and Design (MCAD)
2501 Stevens Avenue
Minneapolis
( map )
Taking its title from the study of food-related behavior and patterns of membership in community, Foodways highlights how contemporary Minnesota-based artists use the subject of food to reveal patterns of consumption, processes of acculturation, and the power of memory. The breadth of artists and ideas—presented in media including painting, drawing, video, sculpture, and photography—provide an insight into the state's cultural diversity and our increasingly interwoven communities.
Some of the projects in the exhibition actively engage Minnesota's own particular history in the development of the flour-milling industry and the invention of packaged foods, while others focus on the everyday—dirty dishes accumulating in sinks, families eating, fridges full of foodstuff, and homages to the best way to clean a countertop, consume butter, and enjoy hotdish. Particularly significant sites of contemporary food consumption are also prioritized, including the Minnesota State Fair and the Midtown Global Market. Seemingly ubiquitous food items that also function as specific markers of culture—such as rice, chicken, eggs, corn, beer, tea, and coffee—are in several artworks recontextualized, becoming products of misrecognition or metaphors for acculturation. Finally, there are pieces that illuminate the role of ritual in preparing and offering food, which serve as a touchstone to childhood memories as well as to ancestral lineage.
Alongside the exhibition's display area there will be a reading area where gallery visitors are welcome to sit and browse through over a dozen books and cookbooks, many of which are published by the Minnesota Historical Society. Outside of the gallery space, there are several food-themed public art installations, including a banner project titled Consumed, by Rosemary Williams, that runs along 26th Street and Eat Street (Nicollet Avenue) and two works in the MCAD Sculpture Garden by Joel Terry and Julie Benda, respectively.
Participants:
Katayoun Amjadi
Phil Anderson
Hallie Bahn
Julie Benda
Kayla Campbell
David Asher Everett
Heid Erdrich and Jonathan Thunder
Luis Fitch
Kaamil Hader
Dakota Hoska
Wing Young Huie
Sieng Lee
Alanna Stapleton
Joel Terry
Twin Cities Urban Sketchers
Kazua Melissa Vang
Rosemary Williams