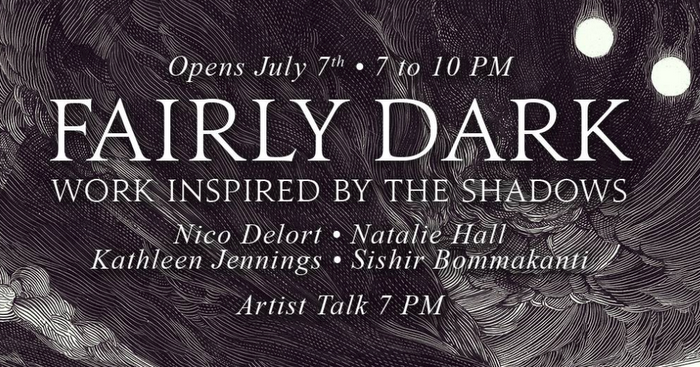 Fairly Dark
Fairly Dark is a collection of solo exhibitions featuring new work from Nico Delort, Sishir Bommakanti, Natalie Hall, and Kathleen Jennings that explores all things mysterious, shadowy, and beautiful.
Event Website
On view

Jul 7th - Sep 1st, 2017

Artist Talk

Fri Jul 7th, 2017 7PM CST

Reception

Fri Jul 7th, 2017 8PM - 10PM CST
Light Grey Art Lab
118 East 26th St
#101
Minneapolis
( map )
As Minneapolis plunges headlong into summer, the sun may stay out longer each day, but the nights are still plenty dark. With that in mind, Light Grey Art Lab will be unveiling Fairly Dark, a collection of solo exhibitions featuring new work from Nico Delort, Sishir Bommakanti, Natalie Hall, and Kathleen Jennings that explores all things mysterious, shadowy, and beautiful.
The opening evening kicks off with an open and frank discussion artist talk followed by a Q&A session with the audience. A Drink & Draw will immediately follow the artist talk, and visitors are invited to pull out their sketchbooks, grab a seat, and join members from the international illustration collective The VACVVM as they create, converse, and share a laugh over drinks around Light Grey Art Lab's banquet tables. Panel participants and local creatives will be on hand for conversation and art-making in a relaxed atmosphere, surrounded by the new work featured in the Fairly Dark collection. Light Grey Art Lab will have refreshments of all varieties on hand, so visitors of all ages are invited to participate.
#mplsart
If you are making art or looking at art in the Twin Cities, use the hashtag to show it off.