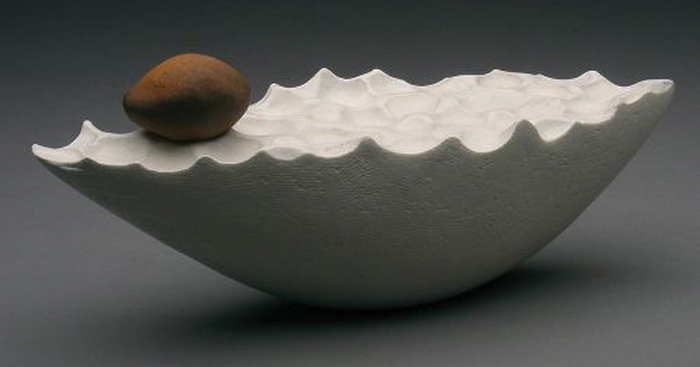 Estuary: Simon Levin and Amy Smith
Showing

Mar 10th - Apr 30th, 2017

Opening

Fri Mar 10th, 2017 5PM - 8PM CST
Northern Clay Center
2424 E Franklin Ave
Minneapolis
( map )
Estuary, an exhibition of work by Simon Levin (Gresham, WI) and Amy Smith (Lincoln, NE), is an evolved dialogue of formal elements that explore ideas and properties of water. Making work from their separate studios, but in conversation through an exchange of work over the years, they've collaboratively paired select pieces for the exhibition.
The title Estuary is derived from the Hudson River in New York State. One of its many names, Mahicantuck, means "great waters in constant motion," or more loosely translated, "river that flows two ways." Estuary visualizes the fluid meeting of two individual artists.
They write, "our strength is our opposing energy: dark-light, male-female, hot-cold, yin-yang. Surfaces are balanced: dry and wet are enhanced because they are together—they give rise to one another; the quiet paired with drama makes the quiet quieter; a warm, orange shino glaze burns beside pale blue. Gifts are bestowed, connections made, and concepts layered. We've set a conversation in motion between line, color, angle, space, and the space between."

This exhibition will run simultaneously with Roadside Attractions—Next 5 Exits in the Main Gallery at Northern Clay Center.