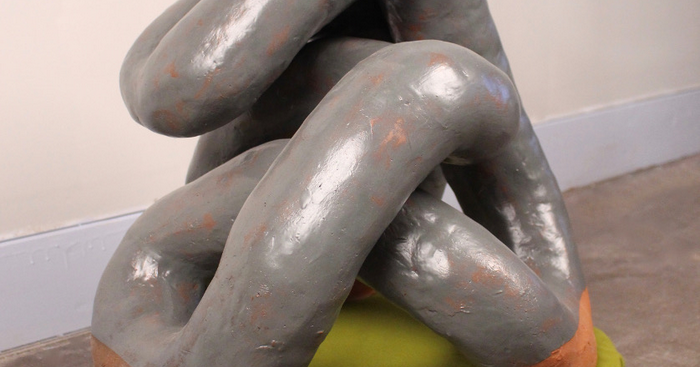 Erin Paradis / Impetus of Entanglement
New ceramic sculpture/installation as well as drawings, textile wall hangings, and 3D textile forms by Erin Paradis. Event Website

Ongoing

Sep 15th - Oct 19th, 2017

Reception

Fri Sep 15th, 2017 7PM - 10PM CST

Artist Talk

Sun Oct 15th, 2017 7PM CST
Hair and Nails Gallery
2222 1/2 E 35th ST
Minneapolis
( map )
Paradis' compelling ceramic forms are certainly the star of the show here, but the strong supporting cast of other media is what allow her work to function so powerfully as fully fleshed-out installations taking the whole space into account. Swirling around, in communication with and crashing against this sculptural anchor, her drawings, textile wall hangings, three-dimensional textile forms and miscellaneous other precise but surprising gestures, pull it all together into a cohesive whole.
Never betraying the crucial element of spaciousness, her work goes deep and rewards long and considered viewing. There is in these forms a feeling of the body, a hazy memory of a strange architecture, as well as a difficult to place otherness, never demanding what is to be seen or how to look.
Erin Paradis is a sculptural installation artist based in Minneapolis. She completed her MFA in ceramics from the University of Minnesota in May 2015, where she teaches. She curated and ran the second iteration of The Island Gallery in the storefront that is now HAIR+NAILS.