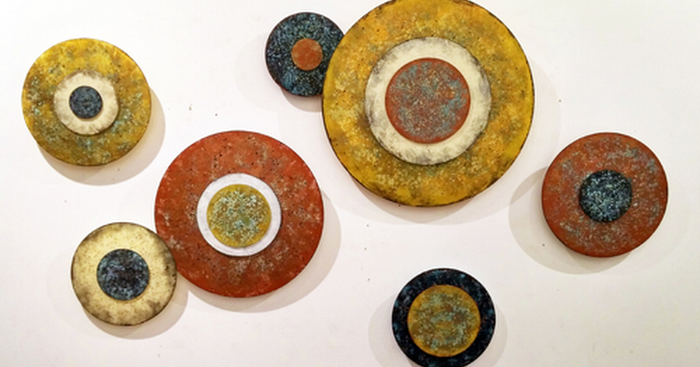 Encircle
An exhibition of new work by Jodi Reeb. In this new series of work, Reeb has created circular works in an installation that oscillates between painting and sculpture.
Event Website
Showing

Oct 12th - Nov 10th, 2017

Reception

Thu Oct 12th, 2017 5:30PM - 7:30PM CST
Traffic Zone Center for Visual Art
250 3rd Ave N
Minneapolis
( map )
Traffic Zone Gallery presents Encircle, and exhibition of new work by Jodi Reeb. In this new series of work, Reeb has created circular works in an installation that oscillate between painting and sculpture. The artist uses contrasting materials and substrates made of wood, found objects and circular acrylic panels using encaustic (beeswax) and acrylic paint as well as metallic paints that transform or react when combined. Combinations are discovered, explored, proposed, rejected and accepted as part of the art-making process. Components are moved around in varying compositions. These paintings are created to be part of a series and some are partnered through discovery to utilize the entire gallery wall space. The disk paintings will flow from one wall to another continuously, disregarding where walls conjoin as a way of exploring contrasting and common elements that form connections. Through this approach Reeb discovers relationships between the elements creating rhythms, patterns and visual textures that are nature-based as well as abstract.
Gallery Hours:
Monday-Friday 9:00 am to 5:00 pm and by appointment
#mplsart
If you are making art or looking at art in the Twin Cities, use the hashtag to show it off.