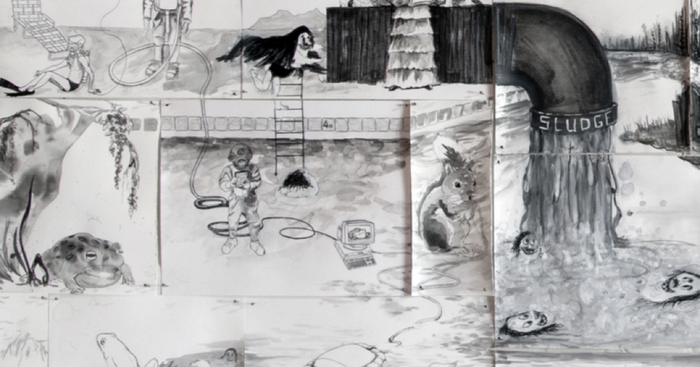 EKPHRASTIC 2.0: A Collaborative Storytelling Experiment
This is the second iteration of an experiment in collaborative multi-panel storytelling. Over the course of five weeks, thirty-seven and counting participating artists will stop by SooVAC to draw onsite, as the drawings are completed they will be displayed on the walls in an exquisite corpse style narrative.
Event Website
On View

Jul 29th - Aug 27th, 2017

Reception

Sat Jul 29th, 2017 6PM - 9PM CST
Soo Visual Arts Center
2909 Bryant Ave S
Suite 101
Minneapolis
( map )
EKPHRASTIC 2.0 is the second iteration of an experiment in collaborative multi-panel storytelling, facilitated by artist Megan Vossler. Over the course of five weeks, thirty-seven and counting participating artists will stop by SooVAC to draw onsite, as the drawings are completed they will be displayed on the walls in an exquisite corpse style narrative.
The final week of the exhibition, writers James Cihlar, William Reichard, and more TBA will visit the completed drawing and create short narrative responses -- hence, the title EKPHRASTIC. (Ekphrasis = Greek term for the interpretation, description, or amplification of an existing artwork in one medium, by using another medium. For example, a drawing of a story, or a story about a drawing.)
#mplsart
If you are making art or looking at art in the Twin Cities, use the hashtag to show it off.