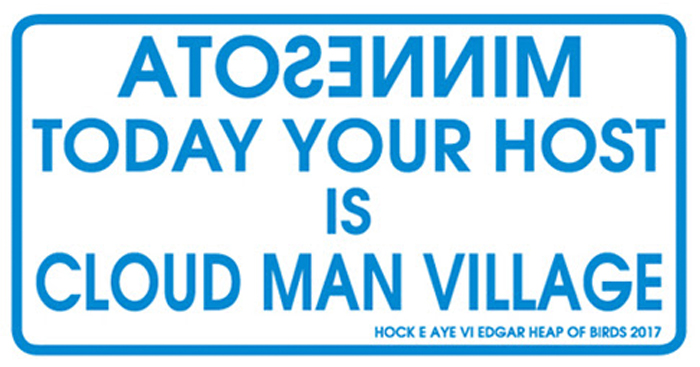 Edgar Heap of Birds
An exhibition of text-based works and more by Edgar Heap of Birds.Event Website

Showing

Sep 8th - Oct 21st, 2017

Reception

Fri Sep 8th, 2017 5PM - 8PM CST

Artist Talk

Fri Sep 22nd, 2017 7PM CST
Bockley Gallery
2123 W 21st St
Minneapolis
( map )
Bockley Gallery is pleased to announce its upcoming exhibition Edgar Heap of Birds. The show will feature a range of Heap of Birds text-based works that span some three decades of his artistic practice, beginning in the mid-1980s. Also on view will be examples of his abstract, acrylic on canvas Neuf paintings and one commissioned public artwork that will be installed on the exterior wall of the gallery.
Heap of Birds, who lives in Oklahoma and has taught Native Studies at University of Oklahoma since 1988, is an enrolled citizen of the Cheyenne and Arapaho tribes.

Heap of Birds has long been a critical voice in contemporary art, one that challenges viewers to reconsider their stereotypical notions of Indigenous tribes, and to confront the facts about how the colonizers of North America tried to strip native cultures of their spiritual practices, their language and their land. Whether it is the romantic view of the noble Indian on horseback, or the use of Indian images and names as mascots for sports teams, or the historic appropriation of native lands, Heap of Birds illuminates this country's genesis through a simple but provocative configuration of words, often in a rainbow of colors, that provokes the viewer to confront the truth.

Gallery Hours:

Wednesday through Saturday, Noon to 5 pm

Edgar Heap of Birds interviewed by Euan Kerr for MPR.

Image: Native Hosts for Minnesota, 2017, 6 x 12 feet, vinyl banner