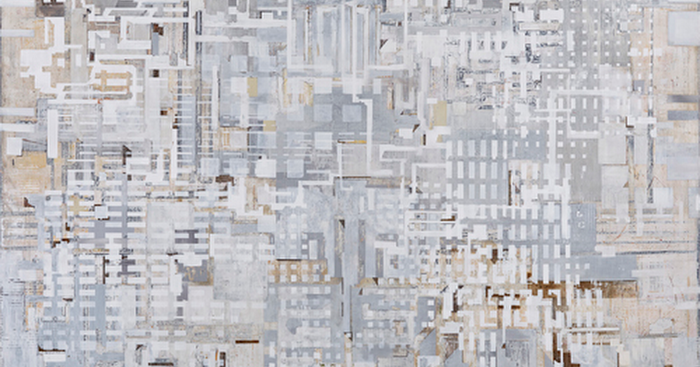 Constructions
An exhibition of new work by Patrick PryorEvent Website

Public Reception

Sat Nov 18th, 2017 7PM - 9PM CST

On View

Nov 18th - Dec 29th, 2017
Traffic Zone Center for Visual Art
250 3rd Ave N
Minneapolis
( map )
Traffic Zone Gallery presents Constructions, an exhibition of new work by Patrick Pryor. Ever intent on exploring the potentials for creativity and expression with painting and sculptural processes, Pryor's new series of works demonstrates his findings. In these works, Pryor juxtaposes intuitive mark making and systematic patterns, layering and erasure. Just as Pryor's new ventures into three-dimensional work entail processes of construction or building, so do his acrylic and graphite works on canvas.
For his large paintings, Pryor's current artist practice begins with intuitive mark and pattern making, which he outlines with tape. Over time, the paint he applies builds up along tape in slight relief creating a crisp edge. Pryor photographs the results and generates a digital file of that image. He then further manipulates the pattern digitally, or physically by cutting up transparencies of the digital file so he can use the same pattern to discover vastly different results. In the completed paintings, after the painted layers are sanded down, he applies graphite on top or highlights painted lines in a grey so they appear as drawn graphite lines.
Free and open to the public.
On view:
November 18 - December 29, 2017
Gallery hours:
Monday-Friday 9:00 am to 5:00 pm and by appointment