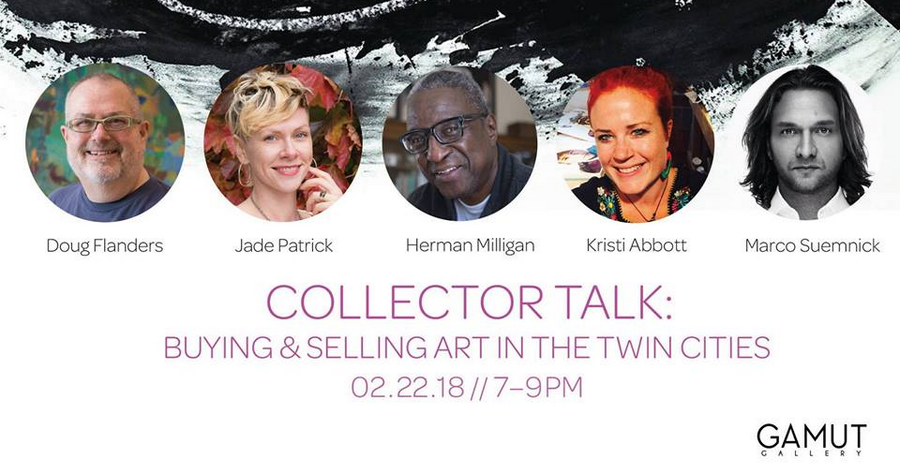 Collector Talk: Buying & Selling Art in the Twin Cities
A panel discussion featuring Douglas Flanders, Herman Milligan, Jade Patrick, Kristi Abbott, and Marco Suemnik
Event Website
Collector Talk

Thu Feb 22nd 7PM - 9PM CST
Gamut Gallery
717 S 10th St
Minneapolis
( map )
Much like the clothes you wear, the art in your home is a reflection of who you are.
Physical aspects of a piece like dimensions and colors may be the qualities that push us over the edge into "gotta have it" territory, but generally the buying experience is much more personal, intuitive and rooted in story.
Set amidst Jane Wunrow's solo exhibition "Seeing Voices," we invite you to join us for a panel discussion about collecting original artwork. Panelists Douglas Flanders, Herman Milligan, Jade Patrick, Kristi Abbott, and Marco Suemnick will drawn on their varied expertise in art consultancy and marketing, managing collections, and primary vs. secondary market sales to discuss how to go about collecting, getting your work placed into collections, and what characteristics make the Twin Cities unique compared to other prominent art markets.
We'll share some pragmatic tips - like, how to learn about the artist and whether their asking price is a good value or not; understanding the materials and process used to make the work; buying within your budget - and also dive into the intrinsic impulses that lead us to collect original artwork and build meaningful collections over time.

#CollectorTalk
February 22nd, 7-9pm
FREE - Limited Capacity
#mplsart
If you are making art or looking at art in the Twin Cities, use the hashtag to show it off.