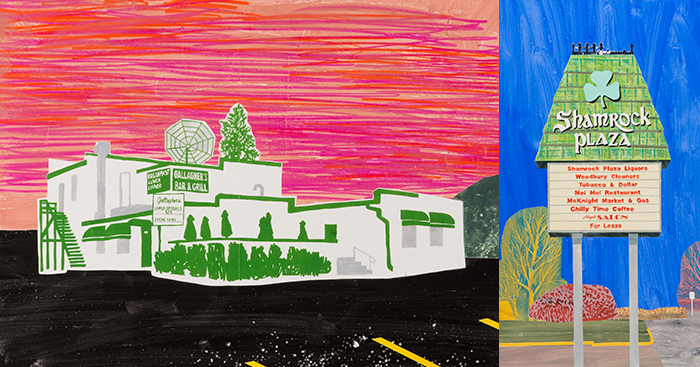 Carolyn Swiszcz: New Suburban Mysteries
A survey of unique watercolor monoprintsEvent Website

Showing

Feb 9th - Mar 24th, 2018

Opening Reception with the Artist

Fri Feb 9th, 2018 6:30PM - 9PM CST
Highpoint Center for Printmaking
912 West Lake Street
Minneapolis
( map )
Highpoint is proud to present Carolyn Swiszcz: New Suburban Mysteries, a survey of unique watercolor monoprints the artist created at the Highpoint Editions printmaking studio.
Swiszcz has mastered the art of shining a rose-colored spotlight on the everyday with her playful style. As an avid creator, Swiszcz turns mundane suburban scenery into jewel-toned landmarks in her multimedia artistic practice, which ranges from music videos to zines to more traditional paintings.
The monoprints in this exhibition feature places around the greater Minneapolis-St. Paul area, such as Rocco's Pizza in West St. Paul, Mai's Deli in the Hmong Village Marketplace, and the Shamrock Shopping Plaza in St. Paul. Savoy Inn, a massive 5-foot x 7-foot multi-panel monoprint, is a playful rendition of St. Paul's famous Red's Savoy Pizza, which closed its doors in 2017. Immersive in size, it is one of the largest prints Highpoint has ever created.