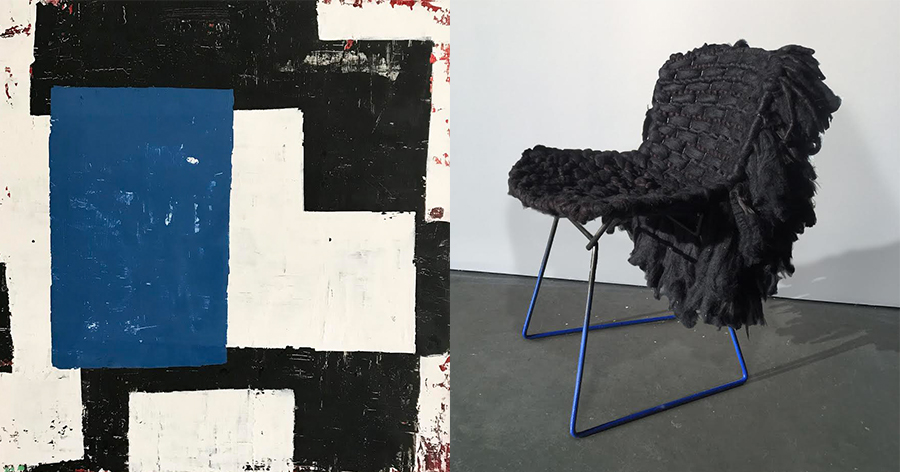 bold boho: CIRCA + OMFORME
An eclectic pairing of one-of-a-kind contemporary art and bohemian-influenced furnishingsEvent Website

Showing

Jan 20th - Mar 3rd, 2018

Reception

Sat Jan 20th, 2018 3PM - 6PM CST
CIRCA Gallery
210 N First St
Minneapolis
( map )
IC: L to R: Ellen Richman's 5, 30" x 30" oil on canvas and Omforme's Chair Electric, vintage Bertoia chair, oil paint, wool/acrylic fiber
Bold Boho is the third joint exhibition presented by Circa Gallery and Omforme Design.
Carter Averbeck, the owner and artistic visionary of local design shop Omforme, set his creative sights on the dreamy, free spirited bohemian look that's influencing the fashion and design worlds. The trend is also reflected in the bold palettes and layered textures of Circa artists' work executed in oil, metal, wood, glass, encaustic (hot wax), resin and cold wax.
Averbeck, who is known for his wildly creative repurposed furniture, is exhibiting wood tabletops saturated with eye-popping dyes and yarn-bombed metal-gridded chairs. His creations rest comfortably amongst the sumptuous surfaces and color drenched paintings and sculpture of Circa artists. Together, they offer a colorful bohemian feast for the eyes and soul.