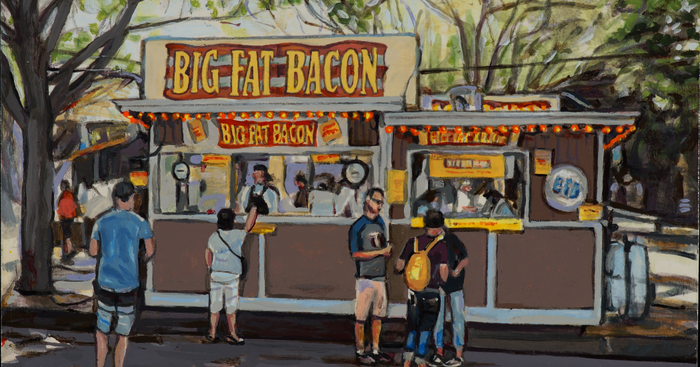 Big Fat Bacon and Other Paintings
Greg Graham is known for his intimate, postcard-sized paintings which depict everyday events and ordinary places with charm and humor. These miniature paintings, created with model train enamel, are snapshots of the everyday occurrences that rarely register in our consciousness. Event Website

Ongoing

Oct 21st - Nov 25th, 2017

Reception

Sat Oct 21st, 2017 2PM - 5PM CST
Groveland Annex
25 Groveland Tr
Minneapolis
( map )
Greg Graham is known for his intimate, postcard-sized paintings which depict everyday events and ordinary places with charm and humor. These miniature paintings, created with model train enamel, are snapshots of the everyday occurrences that rarely register in our consciousness.
Street signs, parking lots, a tiled bath room, holiday decorations, crosswalks and State Fair booths all become iconic through Grahams' lens. He bestows a simple nobility on these awkward and sometimes graceless intersections of humanity and city life. Graham's keen ability to isolate a place and capture a snippet of time brings life to his paintings.
The artist will be present during the opening reception.