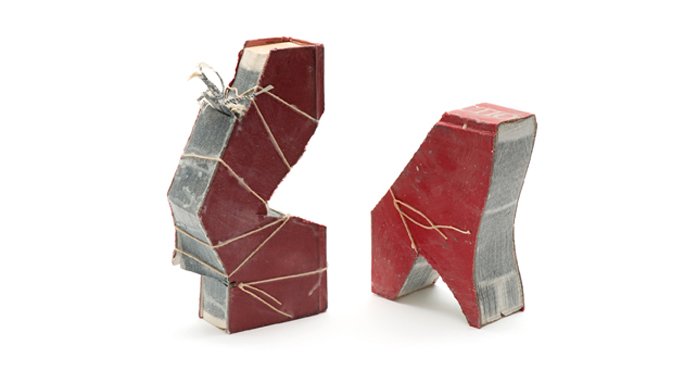 Babel Library
Form and Content Gallery presents BABEL LIBRARY, new sculptures by Vesna Kittelson.
Event Website
Showing

Apr 13th - May 20th, 2017

Reception

Sat Apr 15th, 2017 6PM - 8PM CST
Form + Content Gallery
210 N 2nd St
# 104
Minneapolis
( map )
BABEL LIBRARY features 3 designed metal book stacks, filled with foreign language dictionaries altered and covered with materials such as: encaustic, gold leaf, tar, rust, paint, and others. Various techniques of application are used. Altered dictionaries are also on display as sculptural objects on plinths. This is Kittelson's fourth exhibition in Form and Content Gallery.
Artist Statement
The BABEL LIBRARY exhibition represents my conceptual, visual, and aesthetic response to recent conflicts between different human groups and states. My intention is to examine what underlies the deep fears, uncertainties, and misunderstandings that complicate engagements inside and outside our society. Inspired by the ancient myth of the Tower of Babel, this work is my meditation on current conflicts in which language itself is frequently a victim. This led to the idea of creating the Babel Library where altered dictionaries become sculptural objects that coexist in peace, tolerance, and silence.
#mplsart
If you are making art or looking at art in the Twin Cities, use the hashtag to show it off.