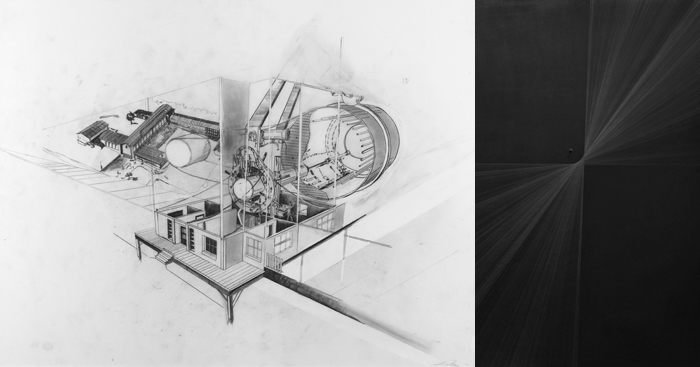 Chris Larson: Axonometric / Threshold
Two complementary bodies of work by Chris Larson make up TOPO Gallery's inaugural exhibition.
Event Website
Ongoing

Sep 7th - Oct 31st, 2017

Reception

Fri Sep 22nd, 2017 6PM - 9PM CST
TOPO Gallery
1500 Jackson St NE
#133
Minneapolis
( map )
Infinity and entropy echo one another in space, time, and place. Chris Larson's work transposes and collides the engineering of satellite, machine, home, and farm, in Axonometric's pencil drawings on vellum. Similarities of form and oppositions of scale are compounded into differential machine-architectures of production and domesticity.
The drawings condense linear projections into vector and pseudo-Euclidean space in a survey of making and being structures that transcends their hierarchies. In an even more universalized language, Larson's Threshold work continues the project of perceiving and reaching space itself. An embedded nail in each piece on which a door threshold was placed, rotated, and traced line-by-line until almost 90 degrees, de-centers the eye from its resulting confluences. Curves made from its straight lines suggest that without a certain othering discipline that neither the artist nor the viewer could arrive at their true relation to space. And that perception and performance are always commingled and conversant.
Preview - Northrup King Building First Thursdays: September 7th 5PM-9PM
Gallery Hours:
Monday - Friday 10AM-5PM
Saturday 1PM-5PM
*or by appointment
#mplsart
If you are making art or looking at art in the Twin Cities, use the hashtag to show it off.