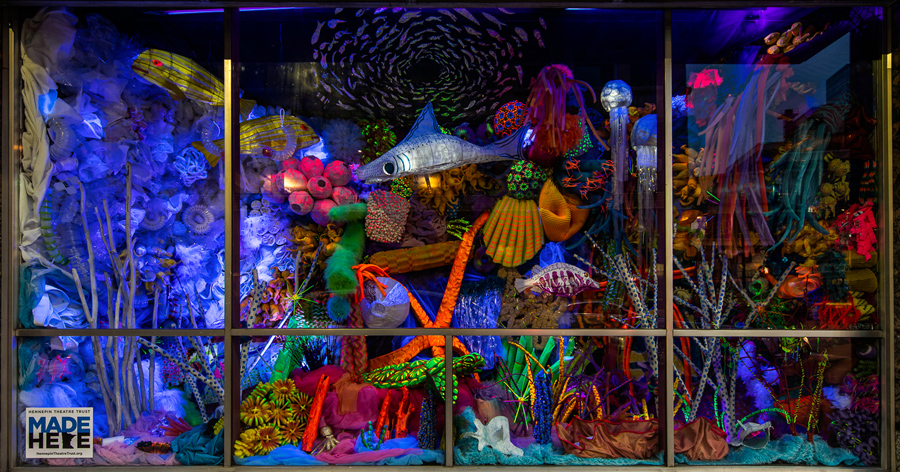 Avenues: Made Here
Hennepin Theatre Trust kicks off the tenth round of Made Here window displaysEvent Website

Showing

Jun 20th - Nov 5th, 2018

Launch

Wed Jun 20th, 2018 5PM - 10PM CST
Hennepin Theatre Trust
900 Hennepin Ave
Minneapolis
( map )
Made Here's Artist Advisory Panel curated this unique round, inviting at least one artist from each of the past nine runs of Made Here to create a showcase that explores the theme "avenues" through window displays and large-scale photography exhibits on the exterior of downtown buildings. Avenues will also include the new Made Here Alumni Gallery in the PNC Encore Lounge at 900 Hennepin featuring works by 11 past Made Here artists.
Through public art and community-inspired activities, the Trust establishes Hennepin Avenue as a place of possibilities with Made Here. The work focuses on five high-volume blocks from Fifth to Tenth Streets that are anchored by the Trust's historic theatres.
Made Here fills windows and other underused spaces throughout downtown twice per year with works by local artists. It has grown from visual displays in windows to live performances, artist markets, pop-up galleries and more.
Exhibiting groups and artists
Ta-coumba Aiken
Quinn Rivenburgh
Erik Pearson
Sayge Carroll + Katrina Knutson
Anthony Chapin + Erin Lavelle
Soozin Hirschmugl
Sarah White
Richard Yang
The Illuminated Reef Collective
Kulture Klub Collaborative
Juxtaposition Arts
Minneapolis MADDADS
FAIR School Downtown
Colin Michael Simmons
Coco Connelly
Gregory J. Rose
Caitlin Karolczak
Erin Sayer
James Wrayge
Tara Costello
Steven Lang
Leslie Barlow
Jim Denomie
Lauren Roche
Dietrich Sieling