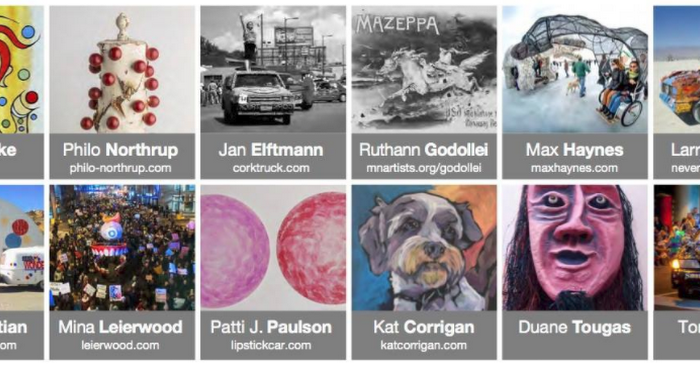 Art of ArtCar & ArtBike Artists
Every day is a parade for an ArtCar & ArtBike artist! These artists use the car and the bicycle as their canvas as an act of personal artistic expression. They turn the mundane exterior into a wondrous piece of moving art.Event Website

On View

Jun 24th - Sep 24th, 2017

Reception

Sat Jun 24th, 2017 6PM - 9PM CST

Artist Talk

Sun Sep 24th, 2017 2PM CST
Art at 801 Gallery
801 N Washington Ave
Minneapolis
( map )
Every day is a parade for an ArtCar & ArtBike artist! These artists use the car and the bicycle as their canvas as an act of personal artistic expression. They turn the mundane exterior into a wondrous piece of moving art. According to ArtCar artist and Art Car Fest organizer Philo Northrup, ArtCars are "street-legal vehicles that have been permanently transformed into mobile sculptures"

In creating an art car, the "exteriors and interiors of factory-made automobiles are transformed into expressions of individual ideas, values, beliefs and dreams. The cars range from imaginatively painted vehicles to extravagant fantasies whose original bodies are concealed beneath newly sculptured shells" (from Petersen Automotive Museum's Spring 2003 Los Angeles, California exhibit Wild Wheels: Art for the Road Gallery Guide).
Cartists:
Steve Blake, Philo Northrup, Jan Elftmann, Ruthann Godollei, Max Haynes, Larry LaBonte, Allen Christian, Mina Leierwood, Patti Paulson, Kat Corrigan, Duane Tougas, and Toni Warner.