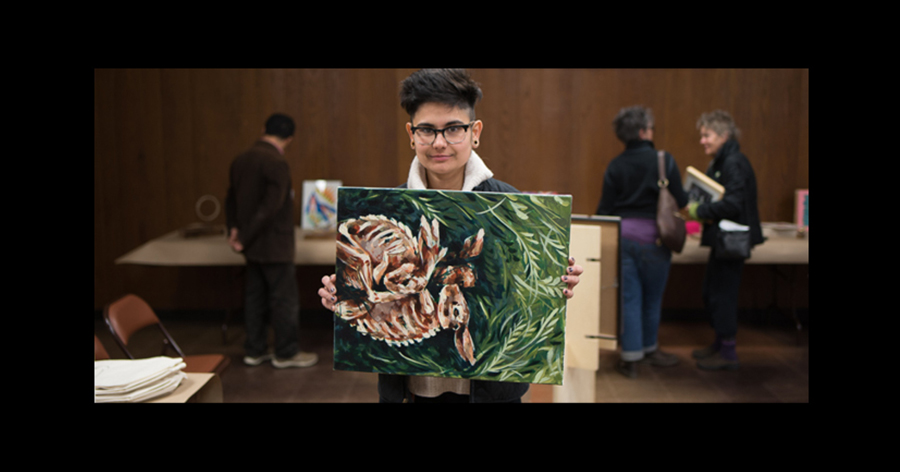 Art Needs People
An exhibition of new works by the artists of the Minneapolis Art Lending Library (MALL)Event Website

On View

Jun 5th - Jul 26th, 2018

Opening Celebration at Northern Spark

Fri Jun 15th, 2018 9PM - 2AM CST

Closing Reception and Summer Lending Event

Thu Jul 26th, 2018 5PM - 8PM CST
Hennepin County Library
300 Nicollet Mall
Minneapolis
( map )
Art Needs People is an exhibition of new works by the artists of the Minneapolis Art Lending Library (MALL). The artists who participate in our circulating collection are as diverse as the community they serve: they work in a wide range of media and styles, come from a variety of backgrounds, and live both locally and across the country. They are unified by the idea that art exists to be shared broadly, not exclusively. Just as people need art, art needs people. This exhibition celebrates the eclectic and generous community of artists who make Minneapolis Art Lending Library possible.
On view from June 5th until July 26th, two big events will bookend the exhibition.
The Minneapolis Art Lending Library is a partner for this year's Northern Spark Festival, and during the festival we'll celebrate the opening of Art Needs People. Visitors to Northern Spark are invited to view the exhibition during both nights of festival, Friday, June 15, and Saturday, June 16.
Art Needs People closes with a bang on Thursday, July 26, with the Art Lending Library's summer lending hours. Visitors are invited to check out select artworks hanging in the exhibition in addition to our circulating collection of over 100 original pieces. This unique lending event will give borrowers the opportunity to visit an exhibition and take an artwork