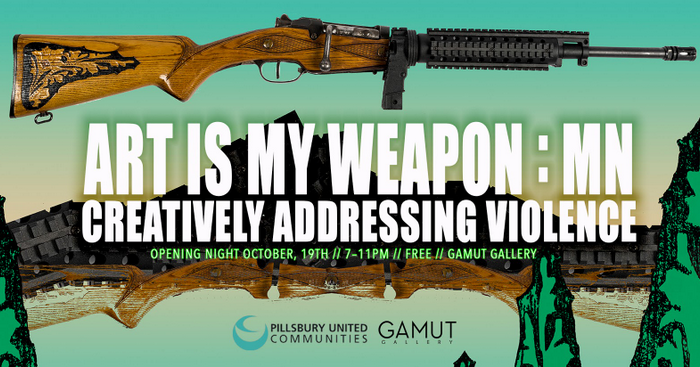 Art is My Weapon
An exhibit featuring artists that used decommissioned firearms to make works of art that address the issue of guns and gun violence in America.
Event Website
Opening

Thu Oct 19th, 2017 7PM - 11PM CST

On View

Oct 19th - Oct 27th, 2017

Exhibit Finale & Panel Discussion

Fri Oct 27th, 2017 7PM - 9PM CST
Gamut Gallery
717 S 10th St
Minneapolis
( map )
Pillsbury United Communities presents the local exhibit, Art is My Weapon at Gamut Gallery. It follows the momentum of the national exhibit, Guns in the Hands of Artists conceived by artist Brian Borrello in the mid 1990s, to create a conversation about guns in our society by bringing the discussion into the realm of art. In August of 2016, Pillsbury United Communities - in collaboration with the City of Minneapolis and the Minneapolis Police Department - conducted a gun buyback to remove guns from the street with no questions asked. Up to 250 guns were collected and decommissioned and disseminated to locally recognized artists to use as raw materials in their art.
Painters, glass artists, sculptors, photographers, poets, and other artists used the decommissioned firearms to make works of art that address the issue of guns and gun violence in America. Each artist used the guns in their medium to express a thought, make a statement, open a discussion and stimulate thinking about guns in our culture. Art is My Weapon features Betsy Alwin, Heather Doyle (Chicago Fire Arts Center), Allen D. Christen, George Roberts, Rachel Joseph, Bill Jeter (Youth Project), Nikayla Neal, Jeon Neal, Omarion Neal, Margie Rotondo, John Schuerman, Melodee Strong, Sean G. Phillips, David Goldes, Maria Cristina Tavera, Nikki McComb, Kenneth Caldwell, Ashley Fairbanks, Mike Klein, David Ekdahl, Julie Landsman, Marnette Doyle, Jason Ramey, Donny Gettinger, and Christopher Alday. "Art is My Weapon" is curated locally by Nikki McComb of Pillsbury United Communities and John Schuerman of Instinct Gallery.

RSVP for Closing Reception and Arist Conversation on Facebook
#mplsart
If you are making art or looking at art in the Twin Cities, use the hashtag to show it off.