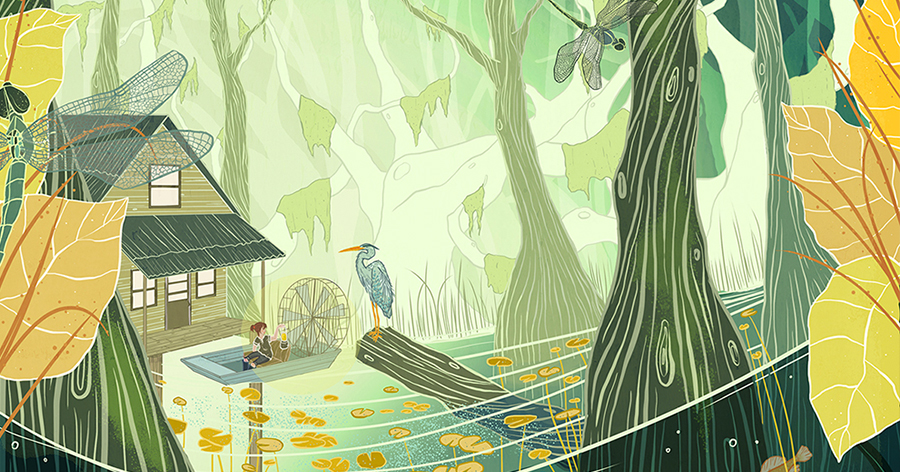 Arboretum
A Collection Spring-Inspired Exhibitions: Arboretum, The Flush of Spring, Resurgence, and Campfire Comics
Event Website
Showing

Mar 23rd - Apr 20th

Opening Reception

Fri Mar 23rd, 2018 7PM - 10PM CST
Light Grey Art Lab
118 East 26th St
#101
Minneapolis
( map )
IC: Kailey Whitman
Exhibitions that celebrate the concepts of spring, renewal, botany, forests, and our relationship with the natural world. The opening reception, features over 100 creatives that delve into the various expressions of the season.
Arboretum: ​An Exhibition about Botany: Genetics, Enchanted Forests, and Designed Garden Spaces. The importance of trees goes way beyond their mythology. The rich ecosystems within old growth forests are expansively diverse and complex. The woodlands help provide infinite habitats for creatures, support highways of connective fungal networks which transport energy, nutrients, and information through the forest floor. Here in the forest, we find elements that house the fundamental basis for new medicines, natural chemicals, unique food sources, seeds and species that are found nowhere else on earth.
Campfire Comics​ Campfire Comics and Stories is a risograph-printed anthology zine published by Dennis Madamba and Kyle Harabedian that features work by fourteen international artists. Each artist takes a turn telling a story around the campfire. The exhibition will include framed spreads from the comic as well as a limited edition of risograph anthologies.
The Resurgence Exhibition is a small collection of prints, screen prints and art originals that are all about the return of vibrance and energy that once was lost. As the grey winter comes to a close, all matter of flora and fauna emerge from their dormant states to take on the new season with a burst of color and purpose.
The Flush of Spring collection celebrates a metaphysical time of change, of rebirth, of flux. This exhibition features makers whose work is itself fluid, active, poetic, and experimental, where the work shown exemplifies the idea of rebirth through the process of creating new paintings, comics, and offset prints.
Opening Reception
The opening reception for Arboretum, Resurgence, The Flush of Spring, and Campfire Comics ​is Friday, March 23rd from 7-10 PM and will remain on display through April 20th. The opening reception is free and open to the public, and features artwork, music, and refreshments.
Arboretum Artists
Kailey Whitman, Rachel Maves, Julia Iredale, Taryn Night, Cameron Garland, Alexis Snell, Yellena James, Luisa Rivera, Yelena Bryksenkova, Lissy Marlin, Ginnie Hsu, Gretchen Ellen Powers, Lara Paulussen, Laure Soulé, Caitlin Ono, Alyssa, Winans, Erik Krenz, Kim Smith, Helena Perez Garcia, Lindsay Nohl, Allison Carl, Angela Rizza, Angela Taguiang, Ann Xu, Arielle Estrella, Ashley Benham Yazdani, Ashley Diers, Elena Resko, Emily Walus, Gica Tam, Hari Conner, Ingrid Kallick, Isa Bancewicz, Isadora Zeferino, Jay Rasgorshek, Jeff A. Menges, Jenna Kass, Jordan Burby, Kate Sheridan, Kathy de Castro, Kevin Jay Stanton, Lauren Baldo, Liz Nugent, Maggie Ivy, Marisa Seguin, Megan Vossler, Niky Motekallem, Paige Carpenter, Primary Hughes, Rose Wong, Samrath Kaur, Shawn Pedralba, Shelby Hersleff, Shirley Chan, Tara Williamson, Taylor Price, Vanessa Gillings, Wenting Li, Xiao Qing Chen, Aaron Asis, Zsalto, Harry Monzon, Lillian Joan Duermeier, Siyin Tse, Lucía Rodríguez, Mariya Prytula, Aldy C. Aguirre, and Loreleï Simon
Campfire Comics ​
Published by Dennis Madamba and Kyle Harabedian, features work by Dream Chen, Diego Cumplido, Kyle Harabedian, Jasu Hu, Dennis Madamba, Natalie Mazorol, Alexander Mitchell, Manolo Moreno, Felipe Muhr, Ryan Peltier, Luisa Rivera, Xiaohua Yang, and Jo Yeh, with graphic design by Tianrui Zhang
Resurgence Artists
​Rachel Dreimiller, Kristin Siegel, Alex Dos Diaz, Alexxander Dovelin, Leonard Peng, Christopher Hegland, Brett Martin, Helen Mask, and Nathan Motzko
The Flush of Spring
Jilian Lihani, Charlo Frade, Beatrix Urkowitz, Dena Leah, Sujin Lee, Kiki Ivanovsky, Bec Hac, Wil Brask, and Adrienne Kammerer
#mplsart
If you are making art or looking at art in the Twin Cities, use the hashtag to show it off.