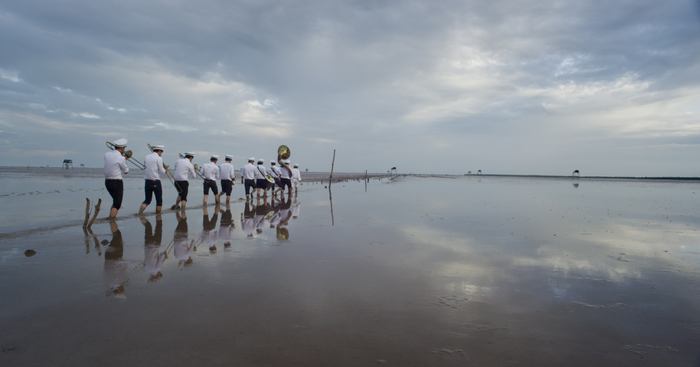 A Conversation with the Propeller Group
The members of Ho Chi Minh City–based The Propeller Group (Phunam, Matt Lucero, and Tuan Andrew Nguyen) will discuss their 2014 film The Living Need Light, The Dead Need Music and other projectsEvent Website
Artist Talk

Sat Apr 22nd, 2017 2PM CST
Minneapolis Institute of Art (Mia)
2400 3rd Ave S
Minneapolis
( map )
Established in 2006, The Propeller Group creates large-scale, collaborative projects in visual art, film, and video, often making cultural, political, and economic conditions of Asia a critical subject of its work. The talk also features Yasufumi Nakamori, Mia's Curator of Photography & New Media.
The Living Need Light, The Dead Need Music (21 min. 15 sec.) is part of Mia's "New Picture" series. A visual and musical journey through the fantastical funeral traditions and rituals of South Vietnam, the film merges documentary footage with stunning re-enactments that enter the realm of the abstract, poetic, and metaphorical—a rumination on death and the lives that pay homage to it.
View the film in the Harrison Gallery prior to the Conversation on its opening day. Yasufumi Nakamori will be present in the gallery from noon until the start of "A Conversation with the Propeller Group."
$10; $5 My Mia members, free for Photography & New Media Affinity Group members
To register, call 612.870.6323 or reserve online.