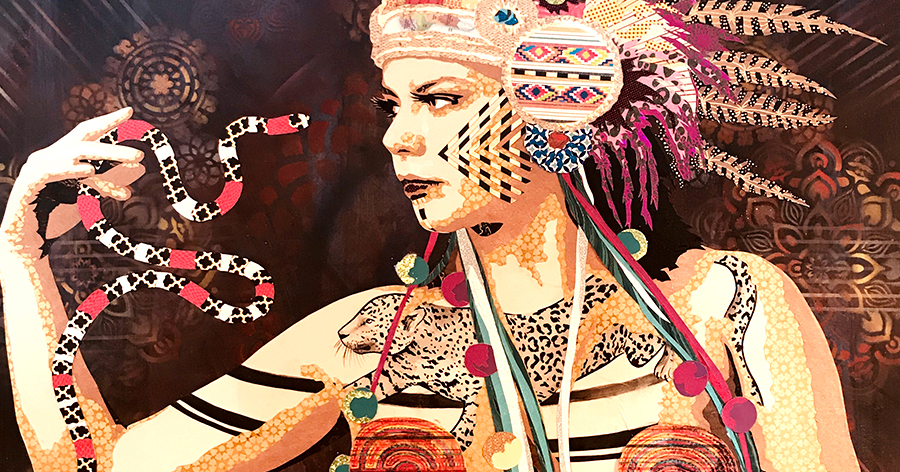 7 Warrior Women
A collaborative exhibition led by Kristi Abbott that celebrates the strength, power, and endurance of the feminine spirit.
Event Website
Showing

Mar 31st - Apr 20th

Exhibit Opening

Sat Mar 31st 7PM - 11PM CST
Gamut Gallery
717 S 10th St
Minneapolis
( map )
Gamut Gallery is pleased to announce a collaborative exhibition, 7 Warrior Women, produced by collage artist Kristi Abbott. Inspired to push the boundaries of her technique and subject matter, Abbott led a group of local artists to create a collection of works that center around seven imagined and embodied figures—women from each of the Earth's seven continents.
These mystical and bold feminine characters represent the strength and energy of women around the world and across time. These figures, imagined through costume elements, photographs, paintings, world maps, and other elements, carry certain cultural markers distinctive to their geography and heritage, but their power and beauty speak universally to the essence of the feminine.
EXHIBIT OPENING​ // Saturday, March 31st, 7-11pm
$5 admission or free with gallery membership
Exhibit runs through April, 20th, 2018
ARTIST TALK ​// Saturday, April 14th, 2-4pm, FREE
Learn more from Kristi Abbott and other artists involved about the process of creating "7 Warrior Women."
#mplsart
If you are making art or looking at art in the Twin Cities, use the hashtag to show it off.