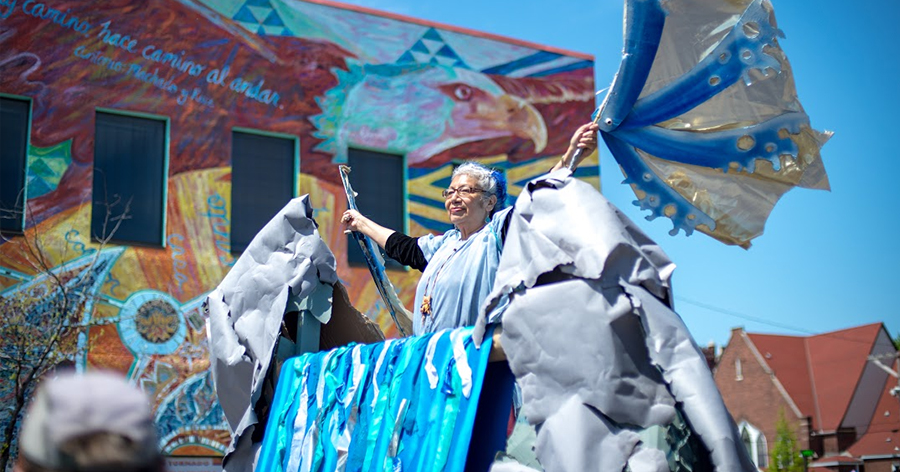 44th MayDay Parade, Ceremony & Festival
Much loved ritual of creativity and participation, presented by In the Heart of the Beast Puppet and Mask TheatreEvent Website

Festival

Sun May 6th, 2018 12PM - 7PM CST
Powderhorn Park
3400 15th AVE E
Minneapolis
( map )
In the Heart of the Beast Puppet and Mask Theatre's annual MayDay Parade, Tree of Life Ceremony, and Festival is a much loved ritual of creativity and participation. For 44 years MayDay has been a vibrant example of art as community building and place making in the Twin Cities area. For many in Minnesota, MayDay is a time to honor the local community and contemporary issues, concerns, and visions for a better world with hand-built puppets and masks (many over 10 feet tall), music, and performance.
The MayDay process officially begins with an open Community Meeting in early February. From this shared conversation, the theme of the current year emerges. The theatre is converted to a giant studio space and throughout April EVERYONE is invited in to attend these open workshops to participate in the building of puppets and masks that illuminate the yearly theme. As the Parade and Tree of Life Ceremony unfolds on street and field on the first Sunday of May, more than 50,000 people from near and far fill the streets as celebrants. This event is an important ritual of renewal for many neighbors of the Phillips and Powderhorn Communities of South Minneapolis.
The MayDay Parade has long been a testament to the power of seemingly small things making a significant impact. Community participants transform recycled cardboard pieces, clay, house paint, and fabric scraps into towering structures, gorgeous masks, two and four person backpack puppets, bike floats and more. More than 4,000 people of all ages participate in the Parade.
The MayDay Tree of Life Ceremony in Powderhorn Park involves 300 performers of all ages enacting a pageant about the theme chosen for this year. It culminates with a resplendent Sun Flotilla arriving across the lake to the shore where the giant Tree of Life is then raised.